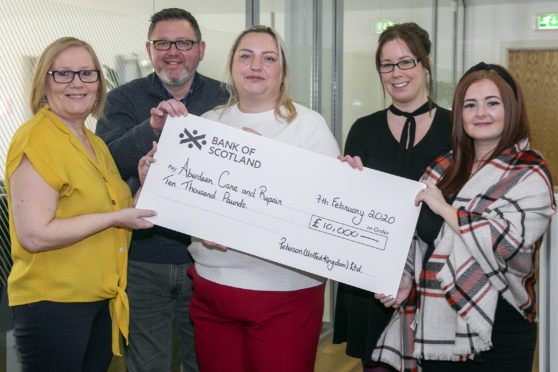 An international energy logistics provider has donated £20,000 to local charities.
Peterson Energy raised the cash throughout 2019 by holding a variety of bake sales, themed days, raffles, and their annual Christmas dance.
Aberdeen Care and Repair and Aberdeen Foyer received £10,000 each to support the important work they do for the local community.
Stuart White, regional director at Peterson Energy, said: "I am proud of our team's fantastic achievement in raising a substantial sum for two very worthy charities, demonstrating our commitment to making a positive difference in our local community."
Staff choose two charities for the Aberdeen and surrounding offices each year, and have so far raised £80,000 for good causes over the last four years.
Karen Milne, manager at Aberdeen Care and Repair Services, thanked the firm for its "generous donation" which will be used for its work to protect dementia sufferers in their homes.
Leona McDermid, chief executive of Aberdeen Foyer, added: "On behalf of everyone at Foyer, I would like to warmly thank all Peterson staff and the charity committee for raising this amazing sum."
Peterson has announced 2020's benefactors will be Community Food Initiatives North East (CFine) and children's hospice charity Chas.