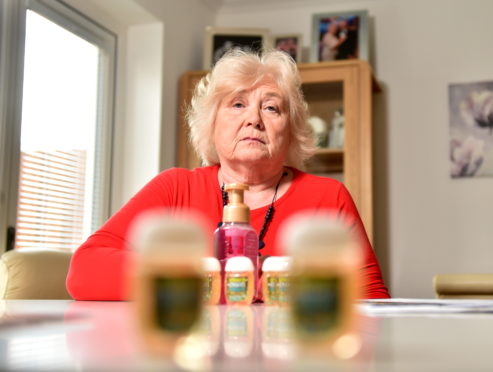 A north east grandmother has inspired her community to look out for one another – after lugging a suitcase full of unusual wedding favours back from Las Vegas.
Dorothy Elder returned from her trip in the States to find a global pandemic had swept the nation and her local community.
After multiple requests from family and friends to pick up luxury toiletries before going on holiday the 72-year-old returned to the Granite City with a suitcase laden with goods.
The Kingswells resident said: "My daughter was meant to get married in June so I bought a load of hand sanitisers that said 'congratulations' on as a joke for the guests.
"The wedding has since been cancelled because of coronavirus and at the end of the day that is very disappointing, but I was still able to give these out to the community around me.
Mrs Elder said her local community had rallied round her when her husband, Michael, died in April of last year from a sudden heart attack.
And she said that by everyone working together, the people of Kingswells could see the other side of this global pandemic.
The Aberdonian is currently self-isolating in the wake of this new respiratory illness, but that hasn't stopped her helping and being helped by those around her.
She added:"The Kingswells community has been brilliant. Just the other day I had a lady deliver books to my door.
"It's only a little thing but it made my day, and I have hoped to do the same with giving out these hand sanitisers so everyone can stay a little safer.
"My neighbour has a bad lung condition so it was good to be able to give her something that might help.
"The postman has also brought me so much mail in the run up to the wedding, so it was nice to give him a little something."
Before the UK wide lockdown, Mrs Elder, who is originally from Torry, had been involved in fundraising efforts for the Greyhope Bay dolphin centre.
She said: "Michael had been the captain of a supply ship and I wanted to get involved to dedicate a bench in his memory.
"Hopefully we can tap into some of the wartime spirit, pull together and get through this quickly."
Follow below for the key coronavirus updates: