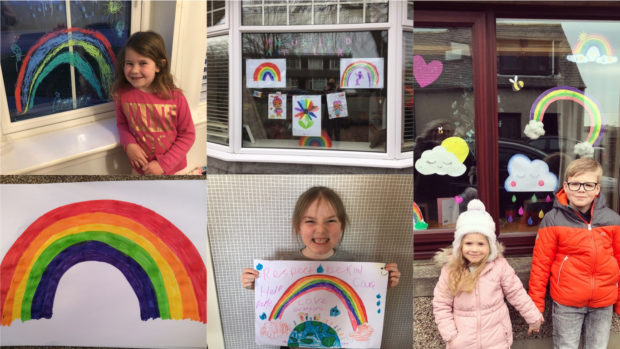 They bring a smile to the face of the young and old, and add a splash of colour on a grey day.
And now, as the country adapts to life on lockdown, families across the north and north-east are brightening up their homes with paintings and pictures of rainbows in the window.
The P&J has been inundated with pictures of the cheerful artwork, and in an attempt to spread the cheer even further we are showing off some of the best ones today.
The idea was adopted in Italy and America, and is proving a hit across the UK – including Inverness, Wick, Cullen, Forres, Fraserburgh, Peterhead, Ellon, Dyce, Bridge of Don and Westhill.
Kerri Graham set up the The Rainbow Trail Inverness Facebook page and has been impressed at the creations she has spotted so far.
The mother-of-two, from Westercraigs, said: "This is something that is good for the children to see the rainbows and get them excited on walks, it's almost like a mini treasure hunt. It's good for them to get out and they're so colourful – it make things less scary for them.
"They aren't getting to see their friends or do things at school so this is a bit of light to the darkness at the moment."
Christina Daniel, from Elrick, has also been chasing rainbows with five-year-old son Eiljah – and now has more than 600 people in a Facebook group all doing the same.
She said: "It also gives some of the people in social isolation the chance to virtually say hello to someone, and wave at the kids who walk past their windows looking for the rainbows."
Enjoy!