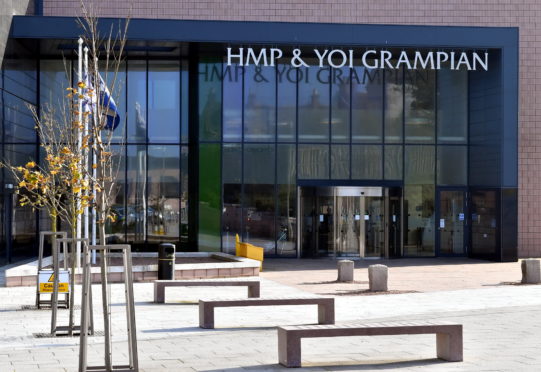 Prisoners at HMP Grampian are being given sedatives to help them sleep as early as 3.30pm, according to a new report detailing health failings at the north-east superjail.
HM Inspectorate of Prisons for Scotland returned to the facility in October, after giving it a damning report last February which found that crippling staffing shortages had impacted standards across the prison.
The first full inspection resulted in 112 recommendations for improvement being issued, with health and well-being standards at the facility ranked as "poor".
A team of five inspectors returned last autumn solely to assess how healthcare had progressed.
One of the major concerns highlighted again was the potential for errors when prescriptions were distributed.
Having observed morning and afternoon medication rounds, inspectors found the system used by workers was "not robust enough to safeguard patients and staff from potential errors".
In a report being published today, inspectors wrote: "Patients were still not being given medications as prescribed.
"For example, in some halls, afternoon and evening medication was given together, and these medicines may be given as early as 3.30pm.
"This was a concern as an appropriate gap between doses may not be achieved, and sedating medication was being administered very early."
Staff shortages were held to blame when it emerged last year that prisoners arriving after 9.30pm were not being subjected to critical medical checks.
However, upon return inspectors found "clear improvements" as late shifts for nurses have been introduced as well as remote checks in custody for arrivals if there is no nurse available.
A health check after a week behind bars is also being enforced.
Additionally, agency workers have stepped in where needed, staff are receiving extra training and management have been given proper coaching tools.
Chief inspector, Wendy Sinclair, said: "The issues here are resolvable.
"They've taken on board our concerns, and will address them, but it will take time.
"It will take hard work to get the dispensing right and it will be resolved, just maybe not right away."
She added: "We were really impressed by the difference.
"There's been huge changes and it's really down to the willingness of the staff to improve rather than just accept they're doing things wrong.
"On the whole the inspection showed a great emerging picture."
Inspectors made 10 recommendations and vowed to return again soon to check on the progress being made.