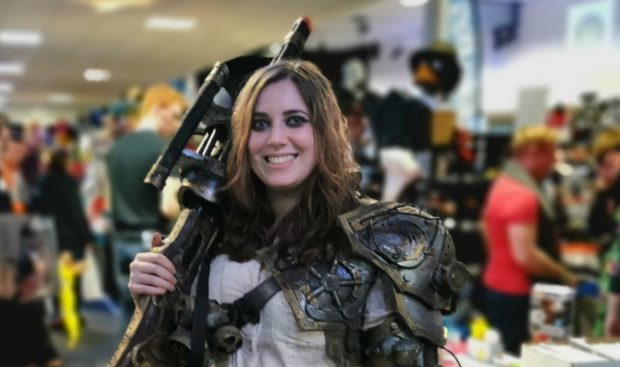 With her impressive armour and fierce black eyeliner, Laura Ripley is not to be messed with.
She is a warrior ready for battle, complete with hand grenade and gun.
But you won't always see Laura in the same guise, for she is unrecognisable with each transformation.
The oil and gas worker is able to create various characters from the world of adventure and fantasy; one particularly striking look includes an auburn wig, green face paint and shoulder plates complete with spikes. The 31-year-old, who lives in Portlethen, south of Aberdeen, has been making her own costumes for the past three years.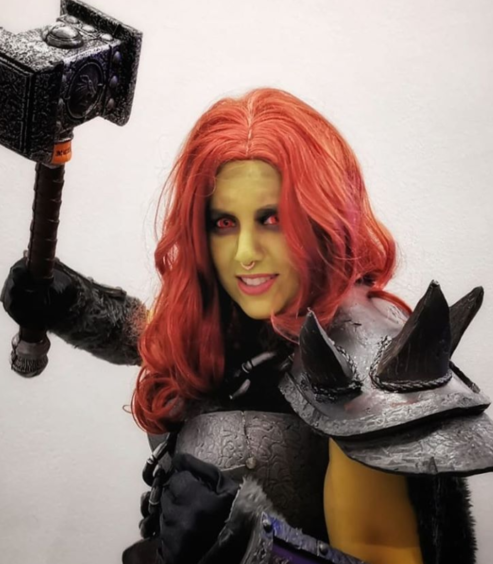 From watching YouTube tutorials to getting inspiration from fellow enthusiasts, she creates amazing pieces with upcycled material.
And although Laura is a self-confessed nerd, her hobby is fast becoming mainstream.
She wears her costumes to comic con events, which can attract thousands of people at each convention.
Here, she explains the long process of costume-making, and the ultimate thrill of becoming someone else.
I work as a sourcing specialist for an oil company.
My costumes are about as far away as you can get in comparison to my day job.
I remember Halloween as a kid.
Every year my mum would make me a costume, and it was always something that bit different.
Maybe that's how it all started.
I've always been a nerd and I had a hard time because of that at school.
But these days, well, people just don't care anymore.
If you look at Game of Thrones, for example, that's mainstream.
I started making my costumes three years ago, when I went to Aberdeen comic con.
I think I've made five costumes now.
I juggle it alongside work, it tends to be evenings and weekends.
I've based costumes on Astrid, from How to Train Your Dragon. Plus a night elf from the World of Warcraft. I'd say my look is steampunk post-apocalyptic.
Inspiration is everywhere; I use foam exercise mats as my main material.
It works really well because foam is cheap and it's easy to bend.
But the problem with foam is that it's also incredibly warm.
Some people actually put a fan in their costume, otherwise you can struggle to keep it on for a long time without getting too hot.
I really enjoy the process of finding material – a lot of my costume-making is upcycling.
I've used an old Dylon tub, bathroom pipes – it's anything I can get my hands on which I think will work.
I find the whole process really therapeutic. It's a way of switching off completely, because you're focused on the task in hand.
I write down my ideas for a costume, and you can also buy templates online. Then it fits together like a jigsaw.
When I look back at what I made three years ago, I feel quite proud of how far I've come.
I'd love to reach what I deem to be amazing level.
That's what I'm working towards.
I decided to do a dressmaking course at college, and that has really helped.
When it comes to cost, it depends what you're making.
You can source material cheaply.
One of my costumes cost £200 to make, but that's because I used expensive paints.
I love creating my own characters and designs. My brain switches off when I'm costume-making. I'd love to make pneumatic wings and make them extend and retract. That will be a huge project.
One of the things I really enjoy about costume-making is that there is such a supportive community.
There are Facebook groups where you can get support and advice, that can be really invaluable.
And when I'm at events, people come up to me to say they like my costume or to ask questions about it.
I drove all the way to Telford for one convention.
I think some people might find it daunting at first, if you don't know where to start.
But there are step-by-step tutorials online.
I also follow cosplayers online, and that gives me a lot of ideas.
I show the process of my costume-making via my Instagram page and the response has been fantastic.
I think I've got over 13,000 followers.
It's a really supportive community in general.
At the moment I'm working on my costume for a fantasy convention in October, with a warrior wizard idea.
When you're wearing a full set of armour, you can pretend you're someone else entirely.
It's a pretty cool feeling, even though it's just for the day.
I'm meant to be a judge at a comic con event in Inverurie this August, depending on whether it goes ahead or not.
It's a brilliant world to be part of.