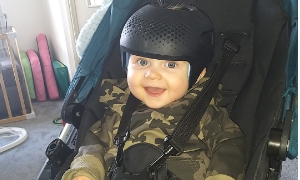 At the age of just 10 months, little James Goodwin has been grasped by a debilitating condition that will to change his whole life.
His parents have had to come to terms with their son's diagnosis of spinal muscular atrophy and the lifetime of help and support he will need, all in the midst of a global health crisis.
The serious genetic disorder will make little James' muscles weaker and cause problems with movement but while it will worsen over time it can be managed with treatment.
And so an online fundraiser has been launched to try and secure some of the funds that will be needed to help the youngster in his lifelong battle with the condition.
Mother Jessica Goodwin said: "It's been hard to ask people for help, especially with all that is going on right now.
"But we have been truly humbled by the support we have received. Everyone is all in the same boat and I can't begin to describe how grateful we all are."
Prior to James' diagnosis, his mother had noticed that one side of his face seemed flat and the youngster was unable to support the weight of his own head.
After a series of visits and tests at Dr Gray's hospital in Elgin, the infant was diagnosed with the condition.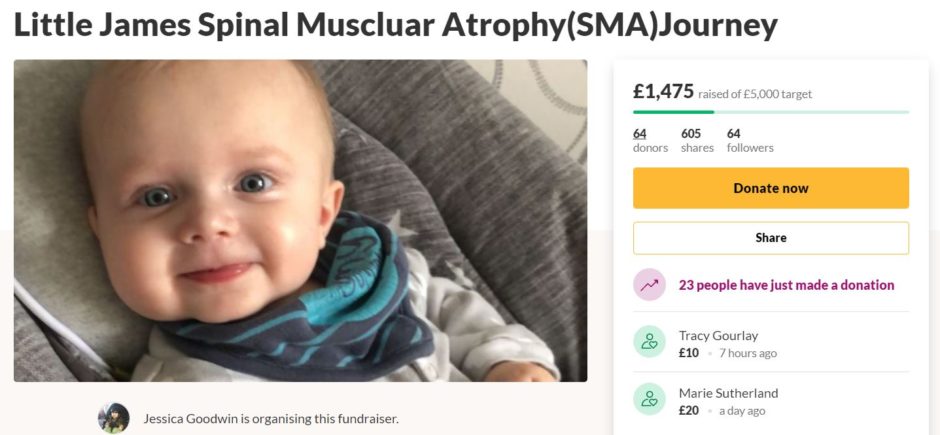 Parents Jessica and Carl, from Lhanbryde, have since been trying to learn as much as possible about the challenges their baby boy will face.
The 31-year-old added: "It has been hard with all the Covid-19 stuff going on as, with the condition that James has, treatment needs to start as soon as possible.
"The condition means that all the muscles will die off. The sooner you can start treatment the more it can be managed.
"We were really scared that with current health crisis and hospital restrictions, James wouldn't be seen.
"James has been receiving treatment, but we have had to go alone, which is quite hard to watch as a parent seeing your child being put under antithetic.
"We don't know in the future if he will be able to walk or what type of things he can do, but as a family we are prepared to help and support him for the rest of his life."
Since his first treatment, James has seen small improvements in the control of his legs, something his parents hope is a sign of things to come.
Currently the family, which also includes daughters Laurie and Lacey and son Jacob, are hoping funds will go towards a wheelchair that would enable the little one to play with his siblings.
Mrs Goodwin said: "He is the happiest little boy and this is something we have to take day by day."
The brave infant will receive the majority of his treatment at Aberdeen Royal Infirmary, which will include spinal injections and a team of specialists working to improve his mobility, respiration, speech and diet.