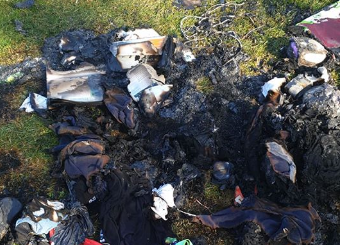 Fire crews were called out to the River Don during the early hours of Sunday morning after a pile of rubbish was set ablaze.
Firefighters were called to deal with the blaze in Dyce and councillor for the area, Avril MacKenzie, has blasted those who caused it for showing "a lack of common sense".
She said: "It has probably been done because the waste centre is closed and they can't get anywhere to put their rubbish, but that is not an excuse.
"Whoever lit the fire obviously has no common sense because everything is so dry, and our emergency services are already working so hard.
"It could have had very serious consequences."
A spokeswoman for the fire service said: "We were called out to a small quantity of rubbish on fire at 1.27am and  we left the scene at 1.42am."
Crews were also in attendance at a wildfire in Strathpepper over the weekend and finally left the scene at 8.30pm on Saturday, after being called initially at 1.30pm on Friday.