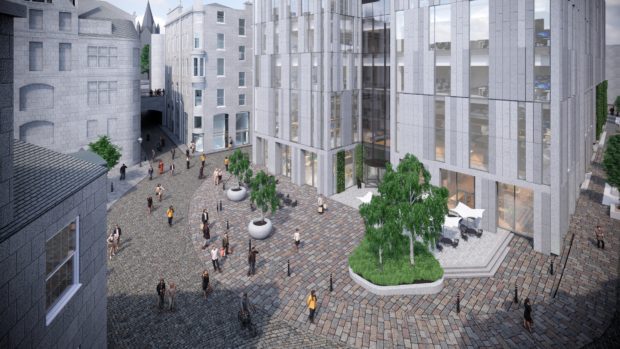 New images showing how Aberdeen Market could be transformed have been released before councillors debate the plans next week.
Patrizia's proposals for the building in Market Street and The Green are understood to be on the agenda for a meeting a week on Friday.
Work would include the demolition of the existing market building, which the owners have described as "deteriorating both structurally and economically".
It is currently home to a number of independent food outlets and retailers.
Proposals for a glass and granite building, and new pedestrian area and green civic space, have been developed over three years.
The new building would contain a business lounge with retail, cafe and exhibition space on the Market Street end of the development, connected to outdoor seating and meeting areas.
It would include further retail and cafe space in Hadden Street and The Green.
Owners Patrizia already have secured planning permission to redevelop the adjoining former BHS building in Union Street into office space, shops and apartments.
The firm has been eager to emphasise "constructive discussions with the council's planning team", suggesting some confidence that officers will recommend the plans for approval.
Shaun Hose, director of Patrizia, said: "Working closely with Aberdeen City Council and a number of third party stakeholders, we have been evolving our plans for several months.
"The council's masterplanning, design and conservation team have been integral to the discussions and there is a shared desire to see a vast improvement on the current building and the surrounding public realm that will breathe new life into this part of the city centre.
"We are satisfied that we now have a final design which fits within the city centre masterplan and takes account of all the feedback and will offer a highly transformative, new destination that will breathe new life into this part of the city centre."
But the plans for the market have raised concern from traders, who previously vowed not to vacate the premises even if the work was approved.
Dozens signed a joint letter of objection to the proposals, worried they would be forced out of business.
Aberdeen City Centre Community Council added its concerns to the list, citing fears for the loss of affordable space for start-up businesses in the city.
City centre business improvement district Aberdeen Inspired has however backed the plans.
Chief executive Adrian Watson said it had the support of an "overwhelming" majority of it 900 levy payers, adding the development could prove "a real fillip for the heart of the city at a time when it is most needed".
The planning committee is one of only a handful of decision-making committees allowed to meet during the coronavirus pandemic, and are expected to conduct their business over video call.
Recordings of the meeting will then be made available to the public on the council's website.