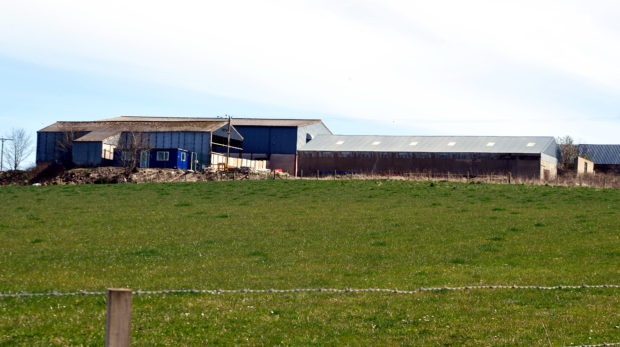 An "Olympic standard" gym for athletes from across the north-east could be created next to the ruins of a 14th-century castle.
Plans to transform agricultural buildings beside Castle Esslemont, just off the A920 Ellon to Pitmedden road in Aberdeenshire, have been recommended for approval by council planners.
Charles Gordon, the applicant, believes the facility would cater to a "growing demand for gymnastics", which is currently "unprovided for" in the area.
Developers said the proposed gymnasium would be of benefit to people from Ellon and further northbound,  with the only other centre of its kind in Inverurie.
A report submitted to the council states: "The unit will be of an Olympic standard, and with the highest level of coaches this will attract gymnasts and parents willing to commute as they would like their children to be trained to this level.
"Currently, the only gymnasium offering this level of coaching in the area is Inverurie, there are no full-time facilities to the north of this location offering this wide a range of gymnastic services."
The report stressed that the facility would be "aimed at producing sporting participation from beginner to competitive level".
Developers added: "Our sporting structure from newborn to early adolescence shall be our initial starting point, with the potential in the future to expand towards health and lifestyle classes for older age groups.
"Hosting competitions would draw in participants from all over Scotland, and potentially further afield, providing benefit to business and the Ellon community."
If approved, the new gymnasium would have a car park, as well as an access road that goes around Castle Esslemont.
Although the site would be relatively close to the castle, Historic Environment Scotland has not objected.
The planned gymnasium has been backed by national governing body Scottish Gymnastics, and attracted six letters of support from north-east residents.
Karen Cordiner, from Peterhead, said: "As a parent of three gymnasts who has travelled a full hour both ways for 10 years, it would be well received.
"Ellon is a reasonable travelling distance for parents from all towns and villages northbound."
And Louella Stephen, another Peterhead-based supporter of the proposals, added: "I have six granddaughters all involved in gymnastics, this will be great for them and many more young people.
"It is desperately needed."
A report by Stephen Archer, Aberdeenshire Council's director of Infrastructure Services, recommended councillors approve the proposal at next week's Formartine area committee meeting.