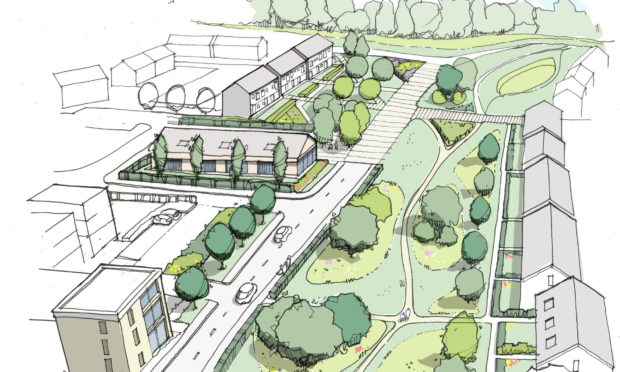 A major project to expand an Aberdeen suburb has been backed by planning chiefs.
Officers are recommending plans for Cloverhill in Bridge of Don are approved by councillors next week, subject to conditions.
The Cognito Oak proposals for 550 homes, community facilities and retail space have won the support of the public at consultations and promise millions of pounds of investment in the area.
Official backing comes despite the application going against the local development plan agreed by the council in 2017.
But the proposed site, currently earmarked for business development, has been rezoned for residential building in the council's proposed local development plan.
In a report prepared ahead of Friday's meeting, planning officer Gavin Evans wrote: "The weight afforded by this emerging policy context, the anticipated economic benefits of the development, its provision of sporting and community facilities for benefit of the community, the piloting of hydrogen fuel cell technology and the significant public support expressed through representation are considered to outweigh any harm arising from departing from the development plan in this instance."
Councillors have been recommended to approve the plans – subject to 29 conditions which must be met before the homes can be occupied.
These include taking a number of steps to make the previously non-residential area fit to live in, by upgrading streetlights, creating safe walking routes to local schools, installing a toucan crossing south of the Murcar roundabout on the A92 Aberdeen to Ellon road, and various environmental surveys and noise mitigation.
The developer would be expected to provide nearly £3million worth of local investment and facilities if the application is approved.
At least £1.31m would be required to fund the expansion of Scotstown School and medical practice – while plans for a community meeting place and public sports facilities are valued at another £1.67m.
Homes built in the first phase of development would also be used as a pilot scheme for pioneering hydrogen fuel cells in the heating systems.
Around 30 homes are intended to be fitted with the groundbreaking Panasonic technology.