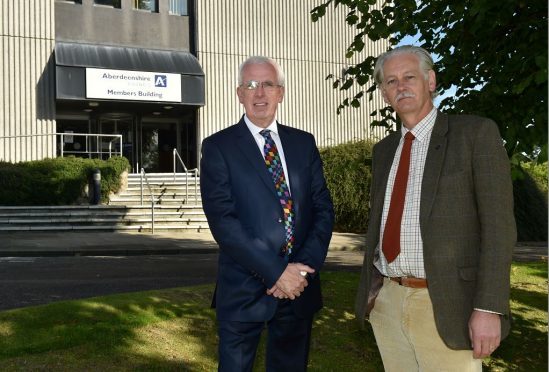 The leaders of Aberdeenshire Council have revealed plans to live-stream meetings during coronavirus lockdown.
Councillors on a number of area committees across the north-east have already met by video conference during the pandemic, with recordings of meetings later shared on YouTube.
Now, deputy leader Peter Argyle has told The P&J work is ongoing behind the scenes to allow public access to their decision-making in real time.
It follows a row in neighbouring Aberdeen, where councillors have branded a lack of live-streaming "appalling".
City councillors will meet online today to discuss three significant planning applications for more than 500 homes, a city centre redevelopment and a retirement village which would have brought about the construction of a £3million road.
Leaders of the city administration said they didn't want to remove IT staff from any "critical Covid-19 work" to come up with a live-streaming solution.
Instead recordings will be shared on the council website, while bosses have agreed to look into broadcasting next month's round of meetings live.
Aberdeenshire's deputy leader Mr Argyle has now given a similar commitment to live-streaming.
He said: "Conducting our routine business over the internet has worked remarkably well.
"We are working on live-streaming our meetings rather than simply recording them for later public access.
"Planning applications continue being processed and determined effectively and democratically.
"The majority of applications are dealt with through existing mechanisms and delegations.
"Any that require to be determined at area committee meetings are going through the normal process.
He added: "Applicants, agents or objectors are able to speak at these meetings if required.
"It takes a bit more planning and organising but it is important to keep this business running as usual."
The council will hold its first full council meeting by webcam today, with the Aberdeenshire-wide ramifications of the pandemic to be discussed.
Council leader Jim Gifford added: "We have moved relatively smoothly to holding all meetings remotely. Our area and policy committees are continuing; it is as pretty much business as usual."
And the Conservative group leader paid tribute to council staff who have adapted to the lockdown measures.
Mr Gifford said: "The disruption to everyone's lives across Aberdeenshire has been enormous but we are running council services as effectively as possible.
"Restrictions on movement have led to the closure of most council facilities but we have put in place alternative means of delivering services."