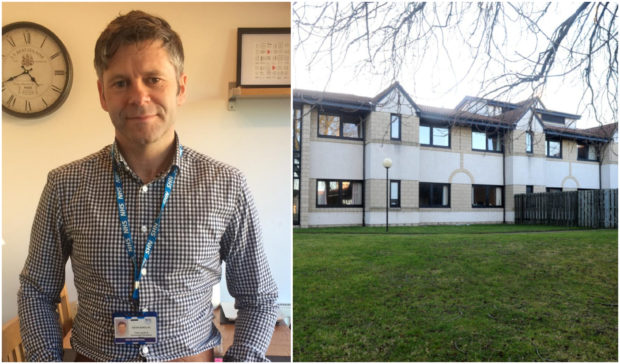 The Covid-19 pandemic has changed the dynamic between mental health support workers and their clients.
There are 55 community nurses currently working in this field across Aberdeen and Aberdeenshire.
Based at Royal Cornhill Hospital, they help patients by carrying out mental health assessments by seeing them within their homes or during hospital appointments.
But, like most services still operating amid the health crisis, they have found their ways of working have been significantly altered.
Community mental health nurse and team leader Kevin Barclay said: "Our bread and butter with mental health nursing is face-to-face contact.
"We spend our time with another person in a private room, building up a relationship and looking at sometimes subtle nuances in behaviour.
"Some of this has been taken away from us so we're doing a lot more telephone contact.
"We have to hone conversations by being more concise and specific about what we are asking, and making sure everything is straight-forward and concise."
All of the community mental health nurses are splitting their time equally between working at home and in the hospital in order to limit unnecessary contact with others.
With less time spent on the road, nurses are finding they have more time to catch up with their clients remotely.
The use of video-conferencing has also helped departments collaborate more efficiently and help patients get the help they require faster, as the instant communication means they no longer have to look at diaries and plan in-person meetings in advance.
"The staff have been incredibly flexible and really risen to the challenge," Mr Barclay said.
"Change is always difficult, and it's been given to us very quickly."
While staff are adapting to the new way of working, their clients are having to as well.
But Mr Barclay says people on both sides of these relationships are acknowledging this and being understanding.
"The hardest part for us just now is referrals," he said.
"We get people coming to us from GPs but neither of us know what the other looks like or how they behave – that's tricky for building relationships.
"But there has been an understanding that we're a service just trying to do our job differently, and their expectations are matching that.
"People are aware of the conditions and the resources that are available to us."
Mr Barclay added: "When we're talking with people with major mental health problems we have to remember they may have difficulty communicating or be quite isolated.
"But we're finding they're all asking how we are as well – it's changed the relationship.
"It's always a collaborative process between us but at the end of the call they'll say 'look after yourselves' and it's nice to get that."
Mental health and the difficulties many are currently facing are being talked about more widely and openly than they have in the past, which may also be playing a role in these shifting dynamics.
Mr Barclay said: "People are realising that mental health difficulties can be a lonely business for the person experiencing it, and it can be difficult to see when other people are experiencing them too.
"Everybody is susceptible to it and it's becoming more accepted in the mainstream – and that's a really positive step."