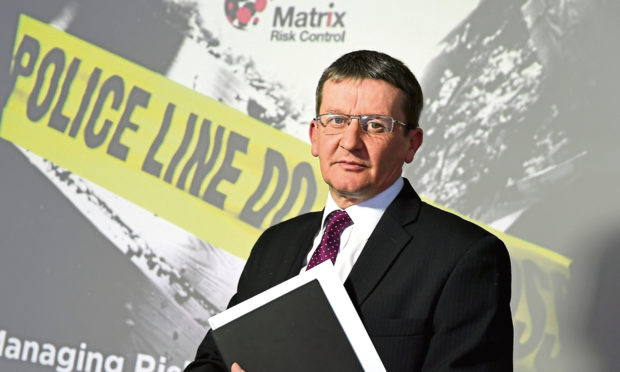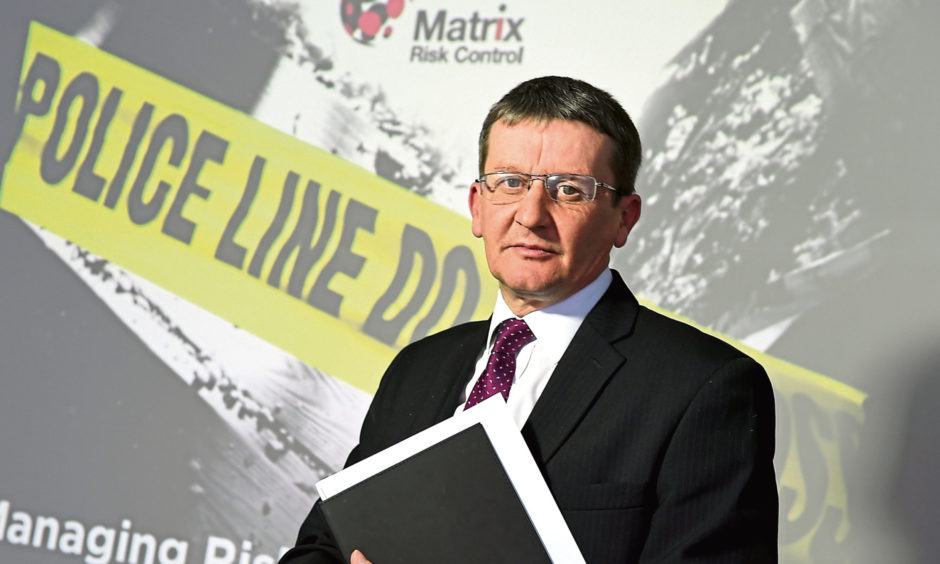 By the time Alan Smith retired from his 30-year career at the police, he had taken the lead on some of Grampian's most notorious cases.
As a detective superintendent with-in Grampian Police, with operational responsibility for major and organised crime, he was in charge of catching wife killer Nat Fraser and headed up the investigation into the capsizing of the Bourbon Dolphin off Shetland in 2007.
And it was these unique investigative skills which allowed Mr Smith, pictured right, to transition, upon retirement, into the oil and gas industry with the launch of his own business Matrix Risk Control.
Here he and former police colleague Mhorvan Sherret developed a new career carrying out incident investigations offshore.
Mr Smith said it was clear there was a gap in the market and that with their experience in problem solving and analysing risk it was the perfect way to utilise their skills.
He pointed to the investigation into Fraser, who has twice been convicted of organising the killing of his 33-year-old wife Arlene after she made plans to divorce him. The Elgin mum vanished on April 28 1998 and her body has never been found.
Mr Smith said: "I often use Nat's planning of Arlene's murder as a way to demonstrate assessing risks. I was confident at the time that he had put in place a robust plan to get away with it. What he did was make a lot of little mistakes.
"As we never recovered Arlene's body we had to build up a picture of circumstantial evidence against Nat and he had put a lot of careful planning in place to ensure he didn't get caught.
"It took a long time to build up the overall picture of what happened but it's that piecing together which helps me build up a picture in industry.
"If we have a fatality or tragic event that we need to investigate now it's very rarely the big bullet that causes it, it's often that combination of little mistakes that come together.
"By investigating incidents in the same manner as I did with Nat and Arlene's murder it allows me to build that bigger picture."
Mr Smith is not only helped by his experience leading the case against Fraser, he also has significant experience policing the North Sea so he has first-hand experience of the tragedies which can arise.
In 2007 the Bourbon Dolphin sank off Shetland with the loss of eight lives. It had been pulling a heavy anchor chain which suddenly slid across the side of the deck and started to drag the vessel over. The two main engines stopped and it capsized.
There were no charges brought.
But Mr Smith said it was exposure to incidents like this that has enabled him to identify a trend in the inability of large operators and service providers to perform good-quality consistent and robust incident investigations when they had a near miss or minor incident.
He said: "It's a fact that organisational safety improvement begins with the ability to learn from previous incidents or failures. There have always been issues with lack of information being shared across the industry.
"The last major incident investigation I was involved in during my policing career was the capsizing of a Norwegian vessel in 2007. Eight people, including the 14-year-old son of the vessel master, lost their lives.
"Like so many other tragedies before it, this one was preventable if not predictable."
But with the falling oil price and the ongoing effects of coronavirus on the oil and gas industry he now hopes to expand his skills into new markets like construction and transport.
Having newly been appointed to the board of STC Global to lead its Incident Investigation and Root Cause Analysis division he believes through the use of their digital risk analysis tool Comet he will be able to help grow the business into new markets.
He said: "Oil and gas is one of the safest industries to work in because it is so heavily regulated. There are lots of other sectors out there like transport and construction where we can literally take what we are doing now and apply it there."
The 60-year-old, who is originally from Skye, said one of the major differences working in industry brings is that he is no longer looking for someone to blame in his investigations.
He said: "Before if I was carrying out a murder investigation I would want to know who was responsible. Now we try to remove the onus of blame, especially on one individual, and focus on why something has happened and try to identify what needs to be put in place to stop it from happening again."
Painstaking probe paid off with Nat Fraser's conviction
Arlene Fraser's murder has become one of the most notorious in Scottish history with her husband Nat twice being found guilty of hatching the plot to have her killed.
The mother-of-two was initially reported missing from her New Elgin home, with police later concluding she had been murdered after no trace of her was ever found.
Fraser claimed he had an alibi on the day due to him spending the morning making deliveries to shops before pausing to make a call from a phone box.
However, suspicion fell on the fruit and vegetable salesman, who had split from his wife just weeks before, due to police believing his defence to be "too perfect".
Farmer Hector Dick, who at one point also faced murder charges alongside Fraser, claimed his friend had confessed to him about hiring a hitman to kill Arlene.
The charges against Mr Dick were dropped during the first murder trial in 2003 in exchange for him giving evidence for the prosecution. Fraser was sentenced to life, with a recommendation of a minimum term of 25 years.
However, that conviction was quashed in 2011 amid claims that evidence had been tampered with – including doubt about whether Arlene's rings had been placed in her bathroom to suggest she had left them there or whether they had never left the home. A second murder trial in 2012 found Fraser guilty, and he was sentenced to a minimum of 17 years behind bars.