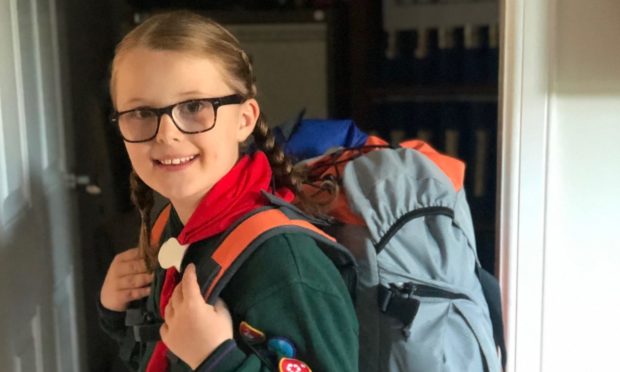 Hundreds of Scouts from across Aberdeen have taken part in a 'lockdown camp', proving life goes on even in quarantine.
Face-to-face meetings of Scout groups are currently postponed due to the Covid-19 lockdown, though many meetings are continuing online.
And making the best of a bad situation, members from packs across the city have just completed their very first 'virtual' camp.
More than 700 Beavers, Cubs and Scouts pitched tents in the safety of their own homes and gardens on Thursday night.
Those without gardens or the space to erect a tent were encouraged to sleep somewhere other than their normal bed – such as a den in their living room.
They were also set challenges like building their own fort and making some backwoods food – and there was even an online campfire.
All the while, the participants were able to keep in touch with each other and their leaders online, through video calls and social media.
Scouts district commissioner for Aberdeen, Mike Winn, said: "It's been great to see so many young people and their families join in our camp at home.
"It was nice to be able to share their photos and see each other having fun.
"Social isolation is a big problem right now, so being able to connect as part of a big community – like Scouts – really helps."
One Cub member who took part in the camp was Olivia Madigan, 9, from 38th Aberdeen Scout group.
She said  her Cubs group was continuing to 'meet' and carry out activities, in spite of current constraints.
"We are doing Cub meetings every two weeks on Zoom and are given challenges," she said.
"I'm enjoying the Zoom meetings as we get to see all our Cub friends and still do badge work, like the home help badge.
"We have done a knot challenge, designed a badge and a quiz.
"I'm in the Gang Show too and we all filmed ourselves singing Crest of a Wave, which was a lot of fun.
"I'm sad about missing the proper camps but I really enjoyed camping in the garden for the camp at home."
Chief commissioner of Scouts Scotland, Andrew Sharkey, said: "We know that young people have been struggling and feeling isolated from their friends, and these camps have been a great way to come together as part of a bigger community."