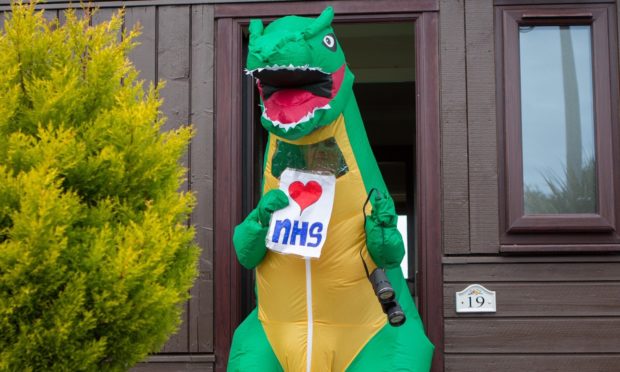 People from across the north and north east plan to remind people of what life in lockdown was like in years to come with doorstep photography projects.
Lucy Taylor and Lynda Thompson have started the Cruden Bay Doorstep Diaries project that will serve as a reminder on what life in lockdown was like for people in the coastal village.
And Inverness photographer Alison White is also involved in the recording these "unprecedented times" in the Highlands.
The Cruden Bay idea was inspired by a similar project in Ireland and New York and has already been met "with an overwhelming response" from local residents with people of all ages taking part.
For those in the village interested in having their photos taken, Mrs Taylor said there is "no right or  wrong way" to pose in front of the camera. She said: "It can be serious or people can dress up and have fun with it. We've already got a lot of photos with people being creative.
"It's something the whole community can be involved in from couples, to families or people living on their own. It's a strange time for everyone but it's really bringing home that normality is lovely."
The photographs are taken while following social distancing guidelines and those interested in taking part are asked to contact the Cruden Bay Doorstep Diaries Facebook page.
Mrs Taylor said: "Our hope is that in years to come this will be something for people to look back on and remember our beautiful coastal village at a time when only the tide went out.
"As well as being something children will study in schools one day, we hope it will help bring a little bit of light in a dark time."
Inverness freelance photographer Ms White is also participating in a Front Steps Project in an effort to help people "remember these unprecedented times."
Similarly to the project in Cruden Bay, "safety is paramount" and the photos are taken at a specific time slot. The photos are posted on Ms White's business Facebook page and Instagram and participants are invited to fill in a mini questionnaire about what their life is like and what their experience of self-isolating.
Through doing so Ms White is raising funds for MFR Cash for Kid by encouraging those photographed to make a donation if they can. Her initial fundraising target was £500 but having met that target she is now hoping to raise "as much as possible".
Ms White is focusing on the area around her home  in Kinmylies until lockdown is eased.
Click here to donate.