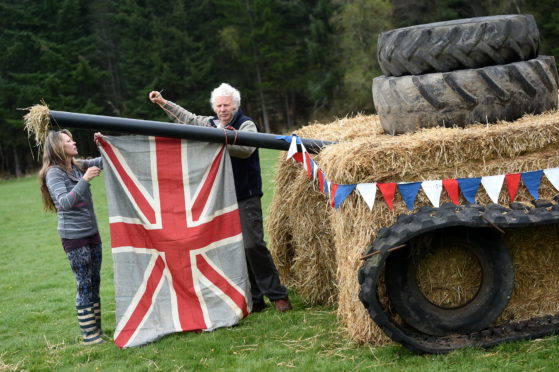 The north and north-east fell silent this morning to mark the 75th anniversary of VE Day.
Public gatherings have been cancelled because of the coronavirus lockdown but people have still found a way to mark the landmark occasion.
A piper played at the war memorial near Balmoral, where the Duke and Duchess of Rothesay laid a wreath and led a two-minute silence at 11am.
Elsewhere, a gun salute from Edinburgh Castle marked the beginning and end of the silence in Scotland's capital, with crowds absent from war memorials as people reflected at home.
Aberdeen beach has been transformed with a mural to commemorate the anniversary.
The work was created by Dougie Bogie after he was inspired by veteran Jack Dunlop.
First Minister Nicola Sturgeon marked the two minute silence on the steps of St Andrew's House in Edinburgh.
She said the day was an opportunity to pay tribute to "our World War Two" generation including those who had "paid the ultimate price".
She said: "We should be inspired by that generation's bravery, and also by their idealism and their determination, following the war, to build a better country and indeed a better world."
VE Day was on May 8, 1945 and saw Britain and its allies formally accept Nazi Germany's unconditional surrender.
At 3pm, Prime Minister Winston Churchill announced on the radio that the war in Europe had come to an end.
It prompted spontaneous partying across the country as people celebrated the end of six years of armed conflict in Europe.
A number of private, socially distanced ceremonies took place across P&J land today, take a look at our pictures below to see for yourself.