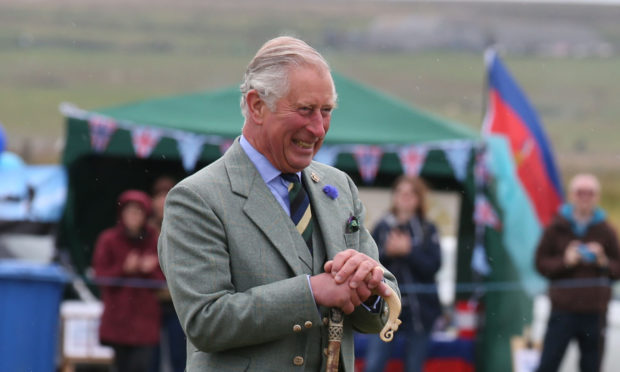 In the final part of our Highland games series, Kieran Beattie discovers just how keenly a certain royal fan is missing this year's events.
By Prince Charles, The Duke of Rothesay
As patron of The Scottish Highland Games Association and someone who has had the joy of attending Highland games and gatherings since my childhood, it is incredibly sad and frustrating to hear that due to the current health pandemic most, if not all, games will be cancelled this summer.
I have no doubt that the decision to cancel this season's games will have been extremely painful for the officials, organisers and volunteers.
However, the loyalty, strength and determination that lies at the very heart of our games will, I am sure, see us through to better times ahead.
In so many ways, Highland games bring out the very best in our communities and in countless aspects of our lives.
Each games, big or small, have their own unique qualities and traditions, making them individually special to their own local community and area of the country.
This wonderful community spirit has always been a vital part of the games tradition, with its sense of gathering and being part of a culture which, for so many of our games and families has lasted for generations.  Even the thought of missing all this for a year is, indeed, hard to bear.
Ever since I was a child, I have attended the annual Braemar Games or, latterly, the Mey Games in the far north Highlands in the late summer.
I am always greatly heartened to see the marvellous sportsmanship and competition that is displayed.
It all mingles perfectly, with the range of ages and abilities, from the sheer strength of tossing the caber to the smiles and laughter of children running in the sack race.
However, for the many competitors who work and train tirelessly for the season, be they heavy-weights, tug o' war teams, highland dancers, pipers or local athletes, there will indeed be great disappointment at this news.
There is no doubt that aspiring to a new games season and the prospect of meeting old and new friends alike will leave a large part of the summer bereft of that experience.
But we must do our utmost in this most difficult of times to keep the games alive in our hearts and spirits.
A day out at any of our Highland games can be the experience of a lifetime to the many thousands of visitors from all over the world.
These events celebrate so much of Scotland's proud culture and rich heritage and their absence over the year ahead will undoubtedly impact many lives, communities and economies all over Scotland.
Nevertheless, God willing, the charm, character and history of Highland games, and all those involved, will, I am sure, be brought back to life with perfect style in the years ahead.
So, in these days, where it is vital for us all to remain safe, let us look forward to happier times when, once again the pipes can be tuned, the cabers rolled out, the kilts strapped on and we can head out once more to enjoy all that we love and share at our uniquely special Highland games.
Highland dance teachers put a new spin on tradition as lessons continue in lockdown
Scotland's Highland dancers might not be taking to any stages this year, but schools across the country are keeping pupils on their toes with online lessons, special challenges and other creative projects during lockdown.
Dancers of all ages, who had been practising diligently for this year's season, have been left without anywhere to perform due to mass cancellations of Highland games.
But instead of languishing in disappointment, across Scotland they have been donning their tartan, strapping on their dancing shoes and continuing their traditional pursuits together as a community, thanks to modern technology.
Louise Anderson, who has been dancing since she was four years old has, over the past 12 years of running the Lonach Society School of Dancing, taught more than 100 children.
This year her pupils, who in 2016 performed for pop star Kylie Minogue at a Hogmanay party, have been keeping up their spirits with all manner of online dancing projects.
Aside from continuing their lessons via live video feed with their teacher, the young stars took part in a virtual New York Tartan Day 2020 "virtual parade", along with more than 700 dancers from across the globe.
Mrs Anderson said: "It's been really disappointing for everyone, myself included, as on a personal note my own daughter just started competing last year and she had been working really hard for this year.
"For me, the Lonach Gathering is better than Christmas.
"I've been to every single Lonach since I was born, so it will be a very strange day in August without it."
Rebecca Mercer, treasurer with the Scottish Official Highland Dancing Association, said she has been doing online lessons, where her pupils send in videos for her to critique.
Miss Mercer, 26, said she will greatly miss attending the games this year, as they are some of the only times she can catch up with dancer friends from across the world.
She said: "We just have to stay positive and stay in this together and hopefully we'll all come back bigger and better next year."
And Alison Milne, who has been a dancing convener at north-east games including Dufftown, Tomintoul and Aberlour, added: "We are all raring to go next year, I can't wait to hear the sound of the pipes again.
"They are a great example of Scottish heritage and each Games has its own sense of character."
How Scotland's bagpipers are keeping the music going despite loss of games
Scotland's Highland Games arenas may fall silent this season due to Covid-19, but bagpipers across the country are keeping the nation's traditional music alive through online lessons, performances and tributes to those keeping the nation going during the pandemic.
Forres and District pipe band chairman John Channon brought the formerly struggling group from six members in 2010 to its current 45 and believes it will take more than a virus to stop Scottish bagpiping.
He said: "We almost imploded in 2010, but now there's one heck of a community.
"We didn't want to lose that and have the band trickle away as a result of the pandemic, so we've set up online practice on a Sunday evening with the band.
"That has been really positive."
Stuart Archer, who pipes for Ballater and District Pipe Band, has been giving rousing performances of Scotland the Brave and other classics around the Rosemount area of Aberdeen every Thursday night as part of the nationwide Clap for Carers events.
Meanwhile, Alastair Laing, 72, has been pipe major for the Lonach Gathering for the past 25 years.
He said: "It's especially sad for the younger people who won't be able to play this year, and the people who are coming to the end of their band careers.
"But most people will understand and we'll be back next year when I'm sure everyone will be more enthusiastic than ever."