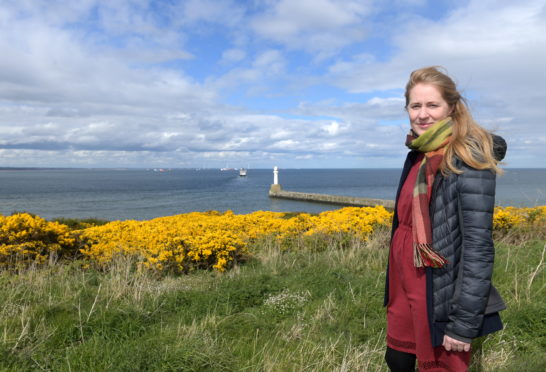 Fiona McIntyre still remembers the exact moment the idea of a visitor attraction showcasing Aberdeen's marine life first popped into her head.
The marine biologist was rock pooling – a favourite childhood activity – at Greyhope Bay, just south of the city's harbour, as part of a work survey.
"The rock pools were just teaming with life that day," she said.
"They are what got me excited about marine biology in the first place.
"It was then that I realised Greyhope Bay was the perfect spot to do something to make people realise what's really here in Aberdeen."
By the time she had finished-up and walked home, a vision had begun to take shape.
"It was that one moment that sparked everything," said Miss McIntyre, who left Naas, near Dublin, to study at Aberdeen University in 2008.
"I knew I needed to find out who owned the land so I could get a sense of just how possible it would be to do something there, and then encourage people to come and help me move forward with the idea.
"I had been in Aberdeen for four or five years before I was really aware of the area and how it could bring people together and get them engaged in marine life.
"The city often overlooks what it has on its doorstep."
The Greyhope Bay founder admits she thought she would go home to Ireland after graduating.
But having completed her masters and PhD at Aberdeen University, Miss McIntyre went to work at Marine Scotland's laboratory in Victoria Road.
Throughout her six years at the lab, she was a researcher, data analyst and field scientist, both onshore and offshore.
For Miss McIntyre, being out at sea has been one of the most enjoyable parts of the job.
"My interest and passion has always been the marine environment and how we explore that world and get a great understanding of our seas," she said.
"One of the things I used to look at was deep-sea environments, which would involve sending remote cameras down 1,000 metres to see the coral and wildlife.
"To see the things that survive in the water is a wonderful experience.
"The focus of my research was the deep-sea environment.
"I loved the opportunity of being at sea.
"It's a vast and powerful and humbling thing, and I've always felt quite excited to go out and explore it.
"I had lots of opportunities to get out to sea and do some research and that's been the driving force for me to create more opportunities for other people to have these experiences."
Fast forward six years and the project is in the final stages of becoming a reality, although at Torry Battery instead of Greyhope Bay itself.
It is already a popular spot to watch the dolphins play at the sea wall, while the boats sail in and out of the harbour, but Miss McIntyre hopes it will bring fresh interest when the visitor centre finally opens later this year.
Made out of converted shipping containers, the centre – which has cost around £140,000-£160,000 – will offer spectacular views of the region's bottlenose dolphins and the coast from the viewing platform and cafe.
The first phase of the project, Dolphins at the Battery, will also be an outdoor exhibit that enables visitors to find out more about the historic Torry Battery through interpretation boards and trails.
The 34-year-old admitted the original plan for a £10 million centre had been "idealistic".
"At the time, people were talking about Dundee and the V&A and the transformative impact such projects could have," Miss McIntyre said.
"I had the big vision of creating a destination attraction. A multi-million pound attraction that was exciting and would be good for the city.
"Aberdeen was going through a transition and I knew this would create some excitement and provide something iconic for the city."
Determined to make her dream a reality, Miss McIntyre quit her job at Marine Scotland's laboratory, taking a "leap of faith" and enrolling in a 20-week Elevator Accelerator programme.
Living on her savings, she began the process of forming a charity and pulling together a team to get the project off the ground.
She had already searched for architects in Aberdeen and discovered Professor Gokay Deveci, who teaches at the Robert Gordon University's Scott Sutherland School of Architecture and is renowned for his sustainable designs.
The pair immediately had a "synergy" and a joint understanding of the potential of the project, and he came on board as co-founder.
"He has always been in this for what it could do for the city and community, rather than for being something big and shiny," Miss McIntyre said.
The charity – made up of a 13-strong team – pulled together a two-day event in 2017 to showcase their plans.
It involved a "fabulous" gala ball with entertainment from Hue and Cry to try and attract businesses and investors and a family fun day.
It was at the second event that the project really began to gather momentum, with more than 3,500 people turning out to find out about the attraction and offer their ideas.
"It was a pivotal moment in the project," Miss McIntyre said.
"We had sparked something. The concept was really resonating with them and you could see them reimagining their connection with the coast.
"The day was run by the community and we realised then that it was them that would make this project a success, rather than just a visitor attraction.
"It took it to another level."
Keen to get the project under way, and realising it could take years to realise the multi-million pound dream, the team began considering what they could create "more immediately" and came up with the idea of using custom-made converted shipping containers.
Buoyed by the success of the workshop – and £15,000 of funding through UDecide Torry – the charity decided to open the Greyhope Bay pop-up shop in the Bon Accord Centre.
And once again, the team were overwhelmed by the positive response.
The one recurring comment, however, was that Greyhope Bay itself wasn't the right spot.
"A lot of people kept telling us that Torry Battery was the better site," Miss McIntyre said.
"That was another pivotal moment for us. Were we looking at the wrong site?
"We had avoided it because it is a historic site and we thought it might be more difficult to get permission.
"But we found that both the city council and Historic Environment Scotland were really supportive of our plans and so we turned our attention to that site in 2018.
"This is now an opportunity to create something that will highlight the importance of marine life and tell the story of Torry Battery, while also creating a better viewpoint for our visiting dolphins."
In March this year, Aberdeen City Council agreed to lease the site to Greyhope Bay for five years at a peppercorn rent of £1.
And the charity is now 95% of the way to its new fundraising target, thanks to loyal supporters, the community, businesses such as CNOOC International and Shell UK, and "in-kind support" from companies such as JCE Group, which has created a bespoke hybrid power system for the environmentally-friendly attraction.
Work to lay the decking was due to start this month, but due to the restrictions in place as a result of coronavirus, this has stalled.
Once lockdown has eased, however, Miss McIntyre is confident it won't be too long before Dynamix Modular lower their converted shipping containers into place with a giant crane – a moment she can't wait for.
"It will be a huge moment for me," she said.
"There's no need for me to 'believe in' the project any more because it's actually happening.
"Once things start moving again, there will be quite limited disruption.
"A lot of work is done off-site, and the decking will only take two weeks.
"The headland and road aren't going to be closed for long.
"It will be great when it's finally open.
"We've made this. We know it will bring people to the city and we know the community are behind it.
"The effort in making sure this is community-owned is what has made this successful.
"It's what will make sure it survives in the future and brings people back, time and time again."
THE FUNDING
Funding for Greyhope Bay has come from a variety of sources, including grants, but primarily through the support of the local business community and members of the public.
The charity launched a special fundraiser with various tiers of supporters – "admirals" for major foundational investors, "skippers" for groups or individuals looking to raise cash in their own way, and "crew" members who donate £30.
So far, eight admirals have signed up for the cause – CNOOC International, Shell UK, Dragados UK, Dynamix Modular, Balmoral Group, Clarksons Platou Offshore, NorDan UK  and Georgina Lahaye – with a few spaces left.
Other fundraising activities have included beach cleans, craft fairs, coffee mornings and even a Santa paddle down the River Dee.
To find out more about how to get involved, visit www.greyhopebay.com.