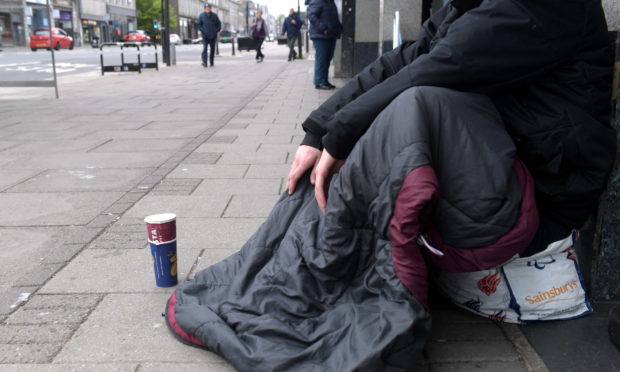 Stay at home and don't go outside unless it is essential, people are told. But what if being outside is your only option? Kaitlin Easton finds out more.
Clouds linger over Aberdeen's Union Street as the miserable sky distracts from the clammy weather.
On the one mile walk down the city's main street, at least three people are lingering with their sleeping bags in doorsteps. And at the corner of the Bon Accord Centre, outside Marks and Spencer has proved to be a congregating point for the homeless community.
For them, being on the street is their only option and being concerned about avoiding a deadly disease is not a luxury they can share with the rest of the population.
"When you have to come out to make money there's not a lot else you can do," one man, who asked to remain anonymous, said. "I find there is no difference whatsoever."
"You see people walking around in face masks. There's a bit of a drop in population in the town because a lot of people are scared to come out."
North-east charity joins nationwide calls to end 'sticking plaster solutions' to rough sleeping post lockdown
There has been little change for those who are sleeping rough and although the government announced extra funding for temporary accommodation for homeless people, many living on the streets have either found it hard to access or have been turned it down.
The man, who is from Dyce, has been offered shelter by police previously but turned it down.
He said: "They've offered me a hotel before, Premier Inn, they said the government is going to pay it.
"It's about £40 or £50. I'd rather sleep outside and come out and make my own money for something to eat.
"That room could be going to a homeless mother with a kid rather than me."
In among those congregating is another man who is celebrating being offered a house after two years – but the occasion has been overshadowed slightly by a violent attack.
He has two black eyes and the bruising is spread thin just below his eyelids.
As he settled down in an alleyway for the night and tried to make up a bed for himself, he was approached by someone and viciously kicked four times. As far as he can tell, the reason for the attack was because he was homeless.
However, the man from Dyce said that overall, most people in Aberdeen are "nice" to the homeless community.
"You get used to it," he said. "I think you just get to point where it's just survival mode, you don't even think about what you're doing, you just get up and do it. It's like going to work."
After he managed to come off of heroin while living on the streets, he feels his lifestyle is much healthier.
He said he doesn't claim any benefits and relies solely on money or donations he can make on the streets.
"To us it's like a community," he said, after handing out the last of his money to a friend who needed to buy dog food.
"The council are hopeless with homeless services; I was arguing with them the other day.
"The services do need a kick up the backside. I've tried doing it but because I'm just a little person on the street they're not going to listen to me."
Communities Secretary Aileen Campbell announced £350million funding to help those most affected by the coronavirus pandemic, including rough sleepers and the homeless.
The money is available to councils, charities, businesses and community groups to help the vulnerable.
Aberdeen City Council is expecting to see an increase in homelessness post-lockdown as a result of poverty and relationship breakdowns, but several people living on the streets claimed they had no idea how to access the support and suggested it was hard to access help from the local authority.
Last night, housing spokeswoman Councillor Sandra Macdonald said: "We are working with partners to deal with rough sleepers as well as any other homeless person by ensuring our statutory duties are upheld, and this continues irrespective of the relaxation of lockdown.
"Where a rough sleeper is referred to us, we immediately provide temporary accommodation (assuming they wish this type of support) to end their rough sleeping.
"They are then invited to participate in a homeless assessment where appropriate longer-term placement can be accessed."
Anyone can refer a rough sleeper in Aberdeen by calling 0800 917 6379. Turning Point Scotland is also provides an outreach service can be contacted via by calling or texting 073421 12076.
A spokeswoman for Highland Council said they were also providing "statutory homelessness services" and were monitoring trends and the availability of temporary accommodation while also utilising empty property.
They don't just decide to become homeless.
Many of those experiencing homelessness will also face added barriers at the same time, one of which is digital inequality.
During lockdown virtual communication has remained vital in day to day life but not everyone has this privilege.
When Aberdeen Foyer realised the young people they support would be cut off from the outside world during lockdown, they rapidly sourced and provided phones, data cards and laptops.
The charity works with young people in the city and shire to prevent and alleviate homelessness and unemployment by providing accommodation, training, counselling and support.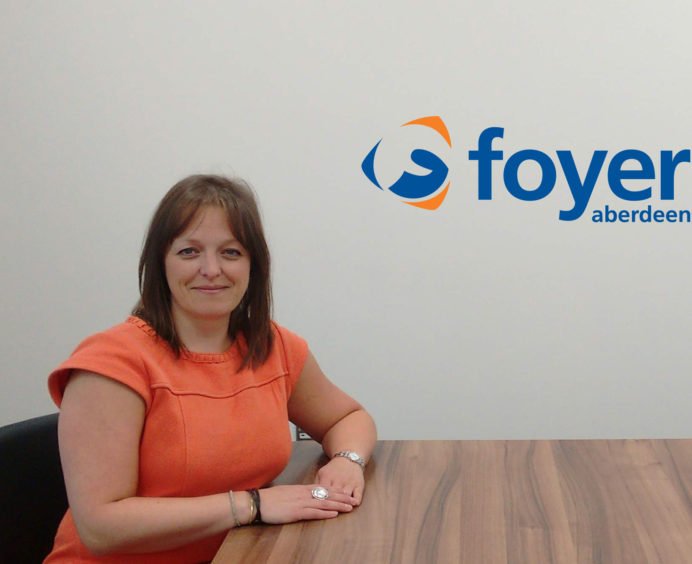 Chief executive Leona McDermid said the charity is currently supporting around 70 young people aged 18 to 25 – and they expect demand to go up as lockdown eases.
She said: "Young people experiencing homelessness can be different as they're also transitioning into adulthood at the same time.
"They don't just decide to become homeless. It can be down to a death in the family, a breakdown in relationships or coming out of care. There is a lot of reasons.
"A lot of the work we do is around homelessness being an experience someone has went through rather than it being something that defines them."
The charity has been providing weekly care packages to all of their tenants containing essentials as this has also ensured a bit of face to face contact with the people they support.
With some finding lockdown more difficult than others, the team has been working to provide education on digital skills to boost morale and keep tenants motivated.
Anyone who is looking for support or experiencing homelessness can find more information at www.aberdeenfoyer.com