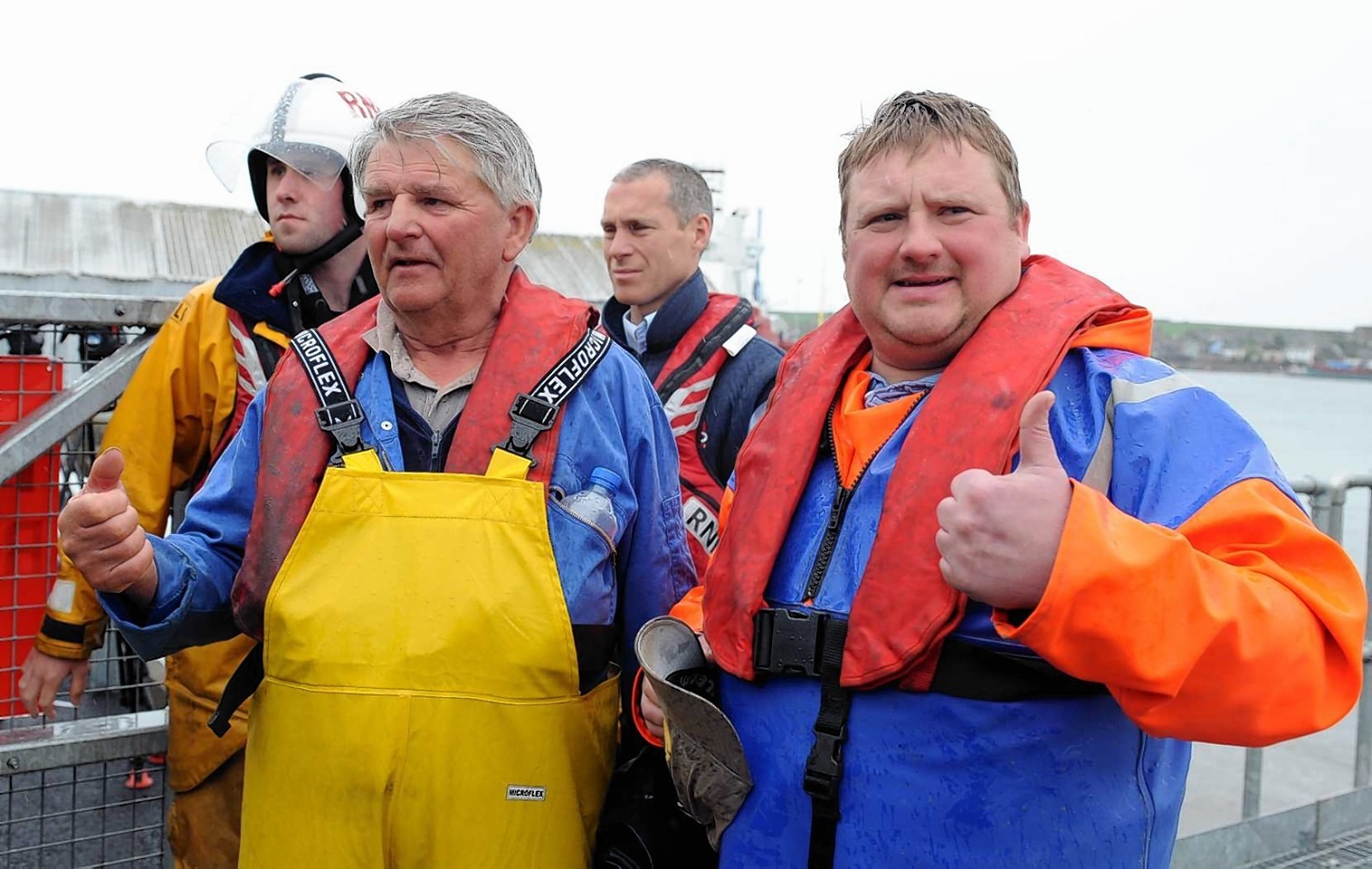 The two fishermen lost in the North Sea for more than 48 hours have slipped into maritime legend with a folk song about their disappearance to be performed for the first time.
Musician Dave Ramsay has penned 'Alive, Alive' following the rescue of David Irvine, 35, and his grandfather Jim Reid, 75, from their tiny creel boat last Thursday.
Mr Ramsay, of Catterline, composed the song after seeing first-hand the devastation caused when the men went missing and the elation when the pair were returned home safely.
The songwriter will perform his piece at a fundraising concert for The Maggie Law Maritime Museum and The Creative Community Good Fund in Inverbervie on Saturday night.
He said: "These guys have created their own history without even wanting to.
"It is such a great story that has the best outcome anyone could have hoped for.
"I was able to see how the community was responding and I suppose I was privileged to see that."
Mr Ramsay has kept the lyrics tightly under wraps but revealed that the flask of tea, bottle of water and two wafer biscuits that sustained the men during their ordeal do get a mention.
He said: "It tells the story of how it happened and is a celebration of how they were discovered. It is also about the response of the local fishermen."
Also to be performed will be a song written by pupils at Inverbervie Primary School, penned as part of a project of the restoration of the RNLI garden in the town.
Mr Ramsay added: "The pupils were celebrating the rich maritime heritage of Gourdon and Inverbervie, and composed a song about the RNLI, little knowing that their words would actually come true with the drama of last week."
Other artists to feature on the night are Davey (Crevat) Craig and special guest Eleanor Leith.
Meanwhile, the Marine Accident Investigation Branch has confirmed it is carrying out a preliminary investigation into the incident and whether it could have been avoided.
The men were found in their boat, the Water Rail, 46 miles off the coast at Montrose by a passing trawler.
The official search by HM Coastguard and RNLI had been called off the night before.
Tickets for the fundraiser at Inverbervie Masonic Hall at 7.30pm on Saturday are £10 and available from Gourdon's Maggie Law Museum and Harbour Bar, Bervie Paper Shop and the Crown Hotel.