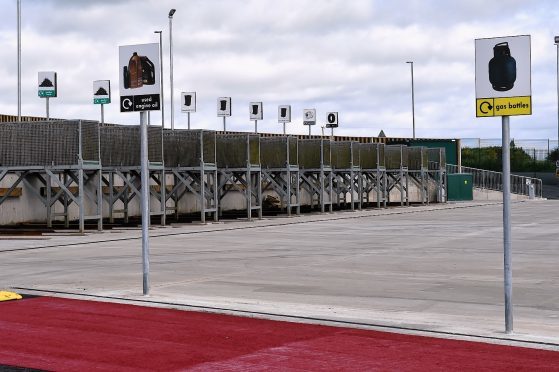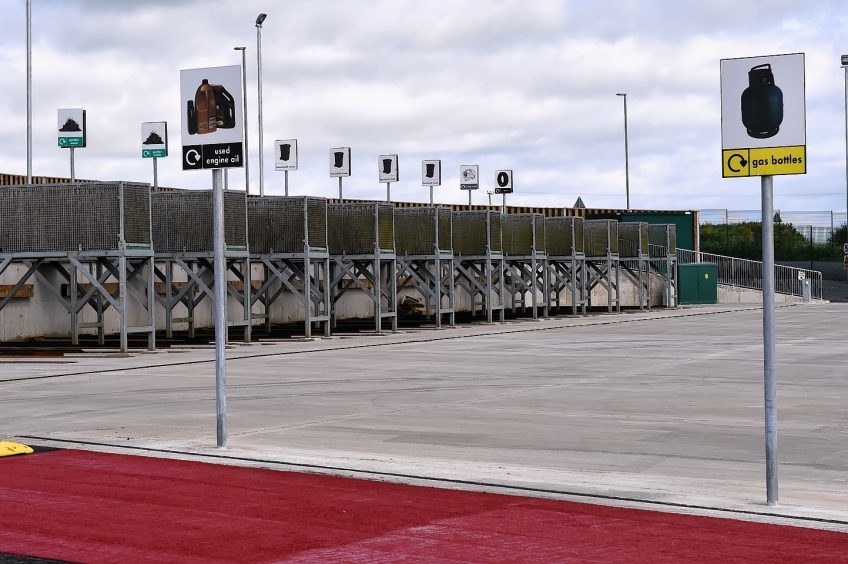 Public services including grass cutting and the opening of recycling centres are to begin again on Monday as part of the lockdown easing – as preparations begin to get north-east youngsters back in school.
There have been repeated calls for the region's tips to open in recent weeks with the good weather and increased time at home prompting many to take on DIY projects.
In Aberdeen, the council has confirmed three tips will reopen on Monday, operating on the normal summer timetable.
Hazlehead, Bucksburn and Tullos recycling centres will accept household waste and recycling – although on a restricted basis.
Staff are to accept only a limited range of materials to begin with, as a means of allowing proper social distancing with visitors.
Only general household waste, non-electrical bulky items, garden rubbish and cardboard will be taken at first.
The facilities will be open between 10am-7.45pm on weekdays and 9am-7.45pm at weekends, with the exception of Tullos which will close on Wednesdays.
A spokesman said while restrictions had been relaxed, residents should only make a trip to the tip if waste cannot be stored safely at home and no alternative disposal was available.
Only one person per vehicle will be admitted and queuing, especially in the morning, is expected.
Meanwhile, grass cutting services – prioritising the city's open leisure spaces and cemeteries – will resume on Monday.
The local authority has committed to cutting the grass as people will be permitted to sit outside in parks and other open spaces as long as physical distancing is maintained.
Aberdeenshire Council has already released some early plans for how it plans to deliver services as lockdown restrictions relax.
This week, the authority revealed it would be taking bookings online to let people use its household recycling centres
Residents can now visit the Aberdeenshire Council website and book a timeslot to drop off their waste at the council's recycling centres from Monday.
During the initial phase, only bagged general waste, garden waste and electrical items will be accepted, and strict social distancing measures will be in place at the centres.
The council has designed the booking system to control the number of vehicles visiting the sites at any one time and prevent congestion.
Meanwhile work to temporarily ban cars from Union Street in Aberdeen will now begin in "days" as opposed to the "weeks" previously indicated.
Other measures are also planned for Rosemount, George Street, Victoria Road in Torry, as well as North Deeside Road, Cults and Peterculter – include pavement widening, temporary bike lanes, and one-way walking systems.
With the first changes to Covid-19 rules, the north-east's two councils are now beginning preparations for schools to reopen safely in August.
Aberdeen teachers are to begin work in setting the curriculum and lessons and drawing up class rotas to ensure school returns without issue.
Aberdeenshire's education department has created a new team including head teachers and senior management, as well as specialists in transport, staffing and catering to create a plan for reopening schools safely.
The new group is looking at potential issues that will need solutions in order for children to go back to school in August, including hygiene, cleaning and feeding the children.
From the start of the new school session, both councils said pupils will have a mix of class-based learning, as well as home learning in order to reduce class sizes and improve social distancing.
Yesterday's government announcement of phase one of lockdown easing is also welcome news for garden centres, which had been forced to close as their services were not deemed essential.
Those reopening this morning include Foxlane Garden Centre in Skene, which provides work opportunities for adults with support needs, and Dobbies in Aberdeen.
Aberdeenshire Council's leader Jim Gifford urged people to heed the guidance and stay local for leisure and exercise, and to walk or cycle where possible.
He said: "What we do not want to see is an influx of visitors across the Aberdeenshire countryside causing congestion at our country parks, woodlands, uplands and coastal areas and the wider road network.
"Many of these very popular attractions and trails have pinch points which could seriously jeopardise physical distancing."