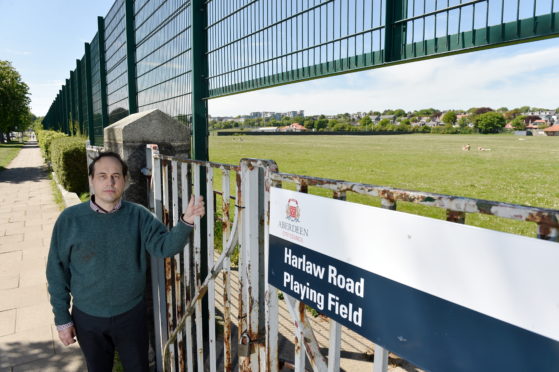 Empty, unused playing fields that are currently locked up by should be reopened now to let people take advantage of green space in the city as coronavirus restrictions ease, a councillor has argued.
The Harlaw playing fields in Aberdeen's west end, like other similar sites in the city, have been padlocked closed for the duration of the pandemic.
The city council has argued that it is "adhering to the government's guidelines" by keeping the fields off-limits, and believes access should be restricted until at least phase two of lockdown relaxation when the Scottish Government's guidance allows the "reopening of playgrounds and sports courts".
However, the Scottish Government has argued that "it is a matter for the council to apply the route map guidelines", and "large recreational spaces, managed by local authorities, will require decisions by them of whether they are open as public greenspace or not."
Now Hazlehead, Queen's Cross and Countesswells councillor Martin Greig has called for playing fields like Harlaw to be freely available for responsible outdoor leisure and exercise to prevent overcrowding in smaller spaces such as the nearby Johnston Gardens.
He said: "The fields should have been allowed to open because I am convinced that local people would have been responsible with social distancing.
"It is a good place for isolated physical activity such as running, and I am sure than any risks would have been managed carefully by visitors to the field.
"There are other public spaces that are open and which are very busy with many people walking around, sometimes in close proximity.
"The fields should be open as soon as possible, clearly they fit into the phase one category, as it is not a playground or a sports court."
Sunbathers and runners have frequently been spotted on the fields despite the locks on the gates.
Meanwhile, the tennis courts at Ruthrieston Outdoor Sports Centre, a 10-minute walk from the Harlaw fields, have reopened.
Ruthrieston Sports Centre is run by Sport Aberdeen, which runs sport facilities on behalf of the city council.
A spokeswoman for Aberdeen City Council said: "The Scottish Government's Covid-19 route map states that the reopening of playgrounds and sports courts will take place in phase two.
"Aberdeen City Council is adhering to the government's guidance for the benefit of everyone in the city."