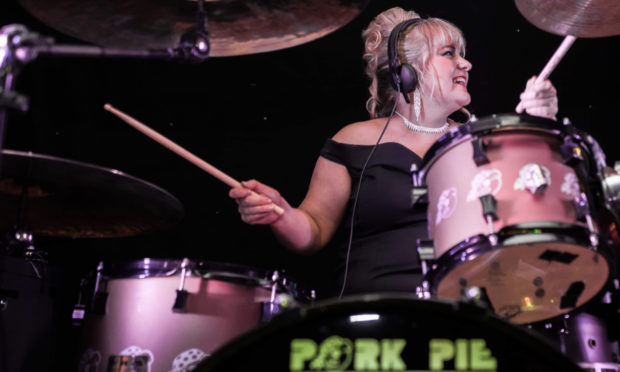 Mairi Newberry has been a drummer for more than 40 years, but admitted she still had to prepare before getting behind the kit for a major challenge.
While she is used to taking to the stage with function band Glitz, never before had she done so for 12 hours straight.
The Aberdeen musician was one of 21 each taking on the marathon session in aid of NHS Charities Together as part of an initiative organised by Errol Kennedy from the 1980s hit-makers Imagination.
All of the drummers have completed their shifts already and each is being live-streamed from 9am-9pm every day on the band's website.
Mrs Newberry, who filmed her set from the function suite of Ardoe House Hotel, will feature on June 16.
She said: "A lot of the drummers found it quite daunting, but I didn't – even though the longest gig I've played is four hours, and this was three times that.
"It left me feeling so high, and I ended up going back the next day to drum for four more hours.
"I'm still feeling energised from it – it's wonderful."
Each drummer was allowed a 10-minute break for every two hours of drumming, and Mrs Newberry said using this time wisely was key.
The 45-year-old suffers from fibromyalgia, a chronic condition causing pain and tiredness.
"It was all about planning and conditioning, and using the breaks to make sure I stretched properly," she said.
"Ironically, I ended up being the only drummer who wasn't in pain by the end of it."
At the close of the campaign on June 18, some of the signed drumsticks, drums and other pieces of memorabilia will be auctioned off to raise even more money.
The drumathon sessions can be viewed at imaginationband.co.uk