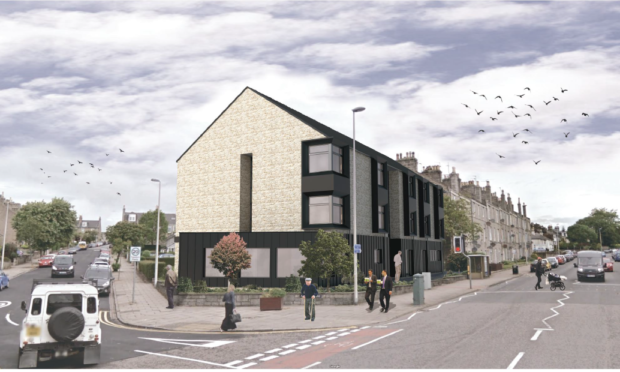 A lifesaving mental health charity building a £3.2million care centre in Aberdeen has warned of a potential "ticking time bomb" due to the pandemic.
VSA chief executive Kenneth Simpson believes there could be a decades-long outbreak of poor mental health, long after the lockdown is lifted.
The 150-year-old charity has become the largest supplier of mental health support services in the Granite City.
It is hoped the new Abergeldie House can still open by the end of the year, despite construction being put on hold in line with government advice.
Only £500,000 remains of the multi-million-pound fundraising goal for VSA's new mental health facility.
But staff report demand is already growing as a result of the coronavirus crisis, showing the need for the centre "now more than ever."
Mr Simpson said: "The impact of coronavirus and the emergency curve-flattening measures are causing children and adults to feel overwhelmed and has increased anxiety levels.
"VSA is working to expand our mental health services and to develop a range of digital toolkits to support more people who need our help.
"We will potentially be living with the consequences of this outbreak for decades to come.
"So we need to ask if we have a mental health ticking time bomb and how do we come together to identify and expand appropriate early mental health intervention for children and adults?"
Abergeldie House will have space for 20 residents and staff will provide support for another 40 people at home.
Ground was broken at the site,  on the corner of Abergeldie Road and Holburn Street, in November.
It will add to the residential offering of the charity, which already runs homes, community-based support services and offers school counselling.
One person encouraged anyone struggling to reach out for the charity's "incredible support", having received help to gain control of addiction and anxiety problems.
The anonymous patient said: "It has changed my life around.
"I am now in recovery and VSA worked with me to build my confidence and teach me techniques and tools I can use to help manage my crippling anxiety.
"Before VSA I didn't think life was worth living and can honestly say that VSA has saved my life."
Information about the Abergeldie House project can be found at www.vsa.org.uk