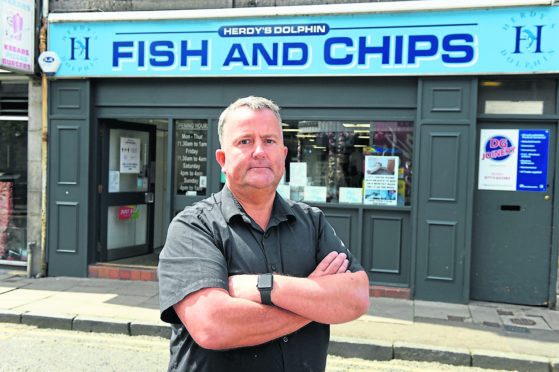 More than 1,500 people have signed a petition calling for the lifting of Aberdeen road closures, as it's claimed the coronavirus measures could "kill off small business".
Within 24 hours of its launch, around 1,200 people had lent their name to the cause started by Chapel Street business man Graeme Herd.
A section of the city centre road, which include his Herdy's Dolphin Fish And Chips, was pedestrianised earlier this week.
It was the latest temporary measure in a £1.76 million project to increase space for physical distancing in the city centre.
But Mr Herd said he was "disgusted" at the lack of information and consultation ahead of the measures' introduction.
"This could kill ours and many other local businesses," he warned.
Parts of Union Street, between Market Street and Bridge Street, as well as Rose Street and Chapel Street, between Thistle Street and the Granite Mile, Schoolhill and Bon Accord Street have been closed-off to cars entirely.
One-way systems are also in force, including in Thistle Street and the remainder of Chapel Street.
The aim of the Scottish Government work is to widen pavements and create more space for cyclists, as pavements are not the 6.5 feet needed for physical distancing.
Deemed emergency work, the city centre changes have been rolled-out with little consultation with business owners and residents.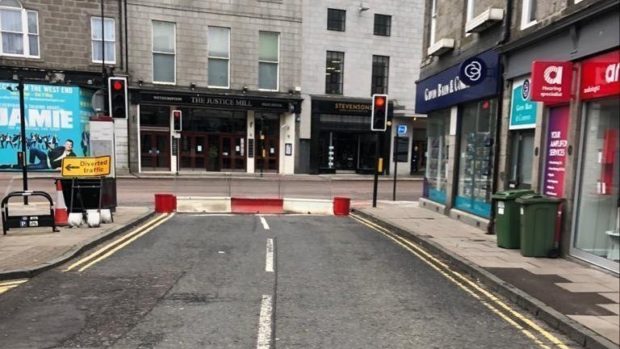 Within the pedestrianised zones, deliveries are only allowed between 6pm and 10am, which some have warned could be the final straw that forces them to remain closed as lockdown eases.
For restaurants turning to the likes of Deliveroo and Just East to begin trading again, the closures pose their own challenges too.
The local authority claims the work will enable people who work in or visit the city to walk, cycle, and queue for buses and shops, bars, and restaurants while adhering to the coronavirus rules.
Urging fellow citizens to get behind his cause, however, Mr Herd said: "This will erode the actions we've taken to protect jobs and may force us to let go of several workers.
"To take such drastic action by asserting such arbitrary and unilateral limitations that have such a drastic impact on businesses, without any warning, is absurd and unacceptable.
"Not only are we throwing the baby out with the bathwater, we're demolishing the home.
"Local businesses need help, not the destruction of our livelihoods and to willingly sacrifice small businesses due to some ill-conceived decision is beyond belief."
The council drew-up the plans with input from NHS Grampian, transport body Nestrans and business improvement district operator Aberdeen Inspired.
Last night a number of prominent businessmen, including retail and hospitality bosses, voiced support for the work.
The local authority has promised to review measures regularly, taking on feedback, and has launched a consultation inviting public feedback.
An Aberdeen City Council spokeswoman said: "These temporary measures will create the space for people to physically distance near shops and eateries which is helping to allow businesses to reopen.
"We have engaged with businesses through Aberdeen Inspired and publicised the changes on our website and social media, in the media and advertised traffic regulation orders.
"We appreciate however that businesses are not getting the usual amount and level of consultation and engagement they would normally get from us.
"Due to the timescales of having to implement the physical distancing measures for pedestrians as soon as we could, it was just not possible to do the level of consultation we would normally undertake.
"We will continue to listen to businesses and will examine suggestions being put forward as part of the continuous review process. Indeed, we had already agreed to engage with Mr Herd on this issue."
It is understood there is better engagement with businesses in other areas of the city where work is planned, after The P&J revealed concerns it could kill off popular shopping street Rosemount Place.
Pavements there are expected to be widened next, with George Street, Victoria Road in Torry, North Deeside Road, Cults and Peterculter to follow.