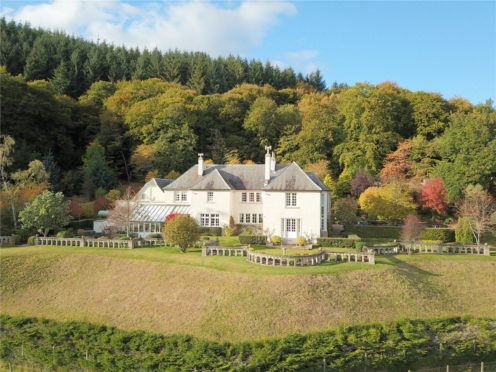 A massive Strathdon country estate has reportedly been bought by a couple of overseas multi-millionaires.
The Kildrummy Estate, west of Alford, had been marketed for offers of more than £11 million.
It is understood American philanthropists Chris and Camille Bently are the new owners of the Aberdeenshire estate, with the sale completed on Friday.
The couple, who have their own charitable foundation, are partons of the arts in California and supporters of LGBT, women's and animal rights.
Property firm Savills boasted there was a "significant level of interest from the UK and abroad" as it confirmed a deal had been finalised.
The 5,600-acre site has a main house and second Edwardian mansion house, which formerly traded as a hotel.
It also includes moors for grouse shooting and deer stalking, access to salmon fishing on the River Don and an eight-turbine 18.4MW wind farm, together with interests in the Kildrummy Inn, significant forestry plantations and woodlands.
There are a number of farms managed by the estate and let out as well as 12 homes on the land.
The Bently's are thought to have purchased the holding company which held the deeds for the estate, Kildrummy (Jersey) Ltd.
The tax haven-registered firm was owned by a number of private companies, including Royal Bank Of Scotland's private wealth management bank, Coutts Trustees.
Savills Scottish head of rural agency, Evelyn Channing, said: "Kildrummy attracted a diverse range of potential buyers, including those who were attracted to the established and potential income flow from its mixed portfolio of assets which, in addition to residential and commercial rents, also include renewable and forestry assets that are earmarked as being contributors to carbon zero targets.
"Even in these challenging times, the market for Scottish rural land and property is still moving.
"Throughout lockdown we have received a continual flow of enquiries for Scottish rural property from across the world as the many and varied merits of owning an estate in Scotland have been brought to the fore.
"During this period we have agreed and completed on a number of estate sales totalling over £30 million, demonstrating the strength and depth of the Scottish estate market."