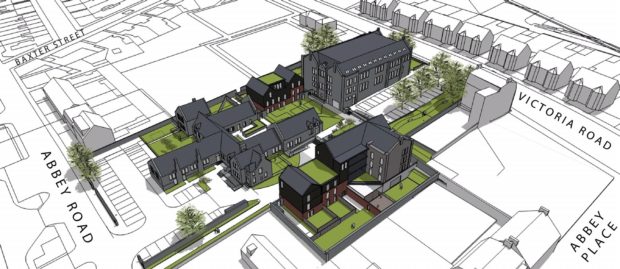 Aberdeen academics will share their expertise with volunteers working to transform a 19th century school into flats.
Victoria Road School in Torry closed in 2008 and spent more than a decade falling into disrepair while community champions fought to secure the future of the building.
Earlier this year, the Torry Development Trust was given the go-ahead for its plans to resurrect the site for the betterment of the area.
Now, experts from several disciplines at Robert Gordon University have joined the project to ensure it goes as successfully as possible.
They have pledged to use their extensive background in health and social care, architecture and the creative arts to help in transforming the old school into a mix of housing, a nursery and community space.
Professor Elizabeth Hancock, vice principal for academic development at the university, said: "RGU has a strong focus on collaborations that enhances the community, our staff and students and our partners.
"We are delighted to work with the Torry Development Trust in this significant and innovative project."
Senior students will give their time and unique expertise to work with the Trust, which will tie in with their academic coursework.
David Fryer, lead trustee with the Torry Development Trust, added: "Joint working has brought in support from across all sectors and will build a long-term project that will bring benefits to Torry and Aberdeen."
The school has been at the heart of controversy since it was closed, with the council approving plans for its demolition in 2014.
After managing to keep the wrecking ball at bay, volunteers were granted control of the site in 2018.
But their plans to regenerate it, in conjunction with the Grampian Housing Association, were thrown into jeopardy when a huge fire broke out at the building last year.
The scheme is now back in motion, however, and housing association bosses have hailed the assistance of RGU in bringing it forward.
Neil Clapperton, chief executive of Grampian Housing Association said: "Responding to people's housing and social needs is at the heart of the design of this development, and the students' perspective will be invaluable as we continue to work with the community to bring our joint aspirations alive."