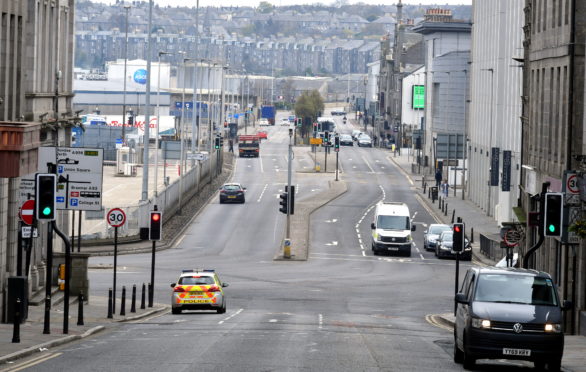 A nationwide rush to source road signs and cones has stalled Aberdeen Council's temporary overhaul of the city centre.
The remaining measure planned for Union Street is a stretch limited to use by buses, taxis and cyclists at its junction with Market Street.
Bus gates will be installed at either end of the no-car zone, from Hadden Street, south of Aberdeen Market, round the corner to The Adelphi.
It is being brought in to allow buses space to manoeuvre after they were banned between St Nicholas Street and Bridge Street to allow more space for physical distancing.
Cars mistakenly turning on to Market Street will be diverted along Hadden Street and returned to Guild Street.
Councillor Sandra Macdonald, who is working with council staff on measures for well-used streets across the city, hopes the bus gate will still be introduced this week.
She told The P&J: "We cannot have it in place until we have the signs and equipment to do it.
"There has been huge demand for the same materials by all 32 Scottish councils, never mind the rest of the UK.
"Everyone is after the same signs, cones, bollards, barriers and kerbing – everything needed for a temporary road change.
"Officers are working incredibly hard to secure what we need in order to put it in place and keep the city centre going once phase two of lockdown easing is announced, which is expected on Thursday."
It is understood Scottish councils are working together to pool resources.
As well as that 1,000 foot-long pedestrianised zone, Schoolhill, Belmont Street, Chapel Street, Rose Street and Bon Accord Street are also partially closed.
There are one-way systems in force too.
Plans are now being drawn up for Rosemount Place, George Street, Victoria Road in Torry, North Deeside Road, Peterculter and Cults.
The Scottish Government funded the £1.76 million work to give those travelling by foot and bike the space to safely return to the city centre and to get businesses trading as lockdown is eased.
And council officers are encouraging hospitality firms to apply for changes in their licences to allow them to set up outdoor trading space.
But the pace of work has not allowed for consultation with all affected by closures and other measures, prompting anger from some businesses.
While some have praised the council approach for giving them their only chance to trade viably, more than 2,700 citizens have signed a petition calling for a rethink.
Business leaders, such as Aberdeen Inspired boss Adrian Watson and Aberdeen And Grampian Chamber Of Commerce head Russell Borthwick, have also been critical.
Bus operators Stagecoach and First previously blasted the council for the detour from Union Street, which cut off the city's seven busiest bus stops from service.