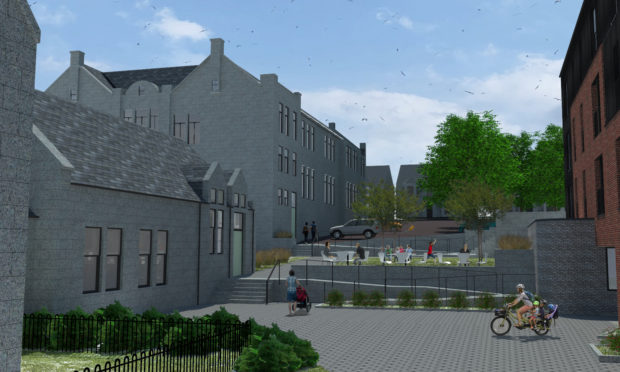 Construction teams have made a swift start to work at a former city school as it begins its transformation into 50 new homes.
Preparatory clearing started yesterday at the much-loved Victoria Road School in Aberdeen's Torry area.
Planning permission was only granted last month to turn the building into affordable homes after it was saved from demolition amid a community campaign to secure its future.
The school, which was built in 1878, survived direct hits from bombs in the Second World War.
It went on to serve children in the Torry area of Aberdeen until 2008, when it was closed.
More than 100 people stood together in the face of Barratt Homes' plans to flatten the building in order to create 62 properties on the site.
Now it will be restored, with a nursery and community space joining homes on the site, in a move that has delighted many locals.
Councillors named the Torry Development Trust and Grampian Housing Association (GHA) as "preferred bidders" for the site in 2018.
The groups promised to work together to convert the former school into affordable housing, while retaining as much of its history as possible.
Chief executive of GHA, Neil Clapperton, said: "It is heartening to be able to see work start on the site in these difficult times and to know we are still able to respond to people's housing and social needs."
The new homes will be a mix of one, two, three and five bedroom houses and apartments, in a part of the city where there is high demand for affordable homes.
Torry councillor Audrey Nicoll said the campaign to save the building highlighted the importance of community empowerment and celebrating local heritage.
"All of this hard work will ensure an important piece of Torry's heritage is retained and transformed into affordable housing and great additional community space," she said.