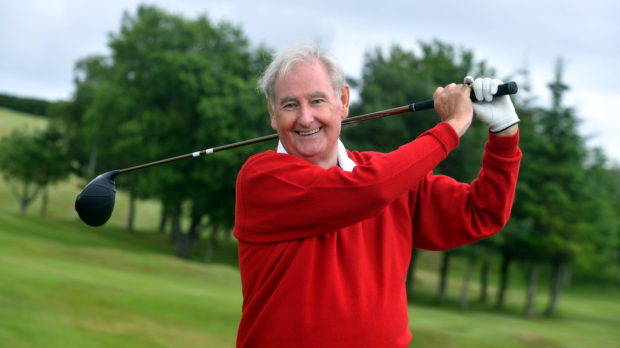 A north-east pensioner who spent two weeks on oxygen after contracting coronavirus has capped-off a miraculous recovery by winning a golf competition.
Bill Beagrie, 72, was taken to hospital in Aberdeen in April with a blood clot in his lung.
After he was discharged he was again rushed back with breathing difficulties, only to discover he not only had a blood clot on the other lung, but that he had contracted Covid-19 on his previous visit.
He said: "I was taken to ward 107 and put on oxygen for two weeks. It was all so sudden.
"I was all alone in my own room and wasn't allowed any visitors.
"But the staff there maintained a high level of expertise and good humour throughout the whole thing which was so appreciated,  I wouldn't be here without them."
Mr Beagrie was eventually discharged having lost one-and-a-half stone in weight.
As he began to regain strength, however, it wasn't long before Mr Beagrie was thinking about getting back to his favourite sport – golf.
Last week Kintore Golf Club played its first competitive golf contest after the country's lifting of coronavirus restrictions.
And the club's "White Tee Medal" was won by Mr Beagrie with a gross score of 72, the same number as his age.
Mr Beagrie said: "I still have some breathing problems but managed to play a few holes okay.
"I did play well and won the medal. I think a bit of luck came my way.
"The support from my golf buddies and their offers of help were quite inspirational throughout my treatment and I was rather emotional."
Kintore Golf Club captain, Colin Craig, added: "To make a lifetime's achievement of scoring your age after such a short recovery time is truly remarkable."
Mr Beagrie has been captain of Kintore Golf Club five times and match secretary on several occasions.
He is currently secretary of the Gordon District Pennant and Greensomes league, a position he has held since it was inaugurated 38 years ago.