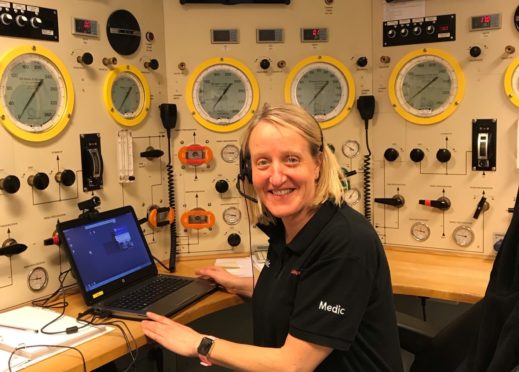 When Hilary Peace spies the mouth of Aberdeen Harbour at Fittie, she knows she is finally home.
The former NHS nurse may have sampled the crystal-clear waters of Norway, but nothing compares to the north-east.
Hilary is normally away for one month before setting eyes on the Aberdeen coastline, although Covid-19 has seen her trips extend to six weeks.
Her time at sea is not unusual in this part of the world, where hundreds of people make their living upon the choppy waters.
But Hilary is not an oil and gas worker, or casting a net in the fishing industry.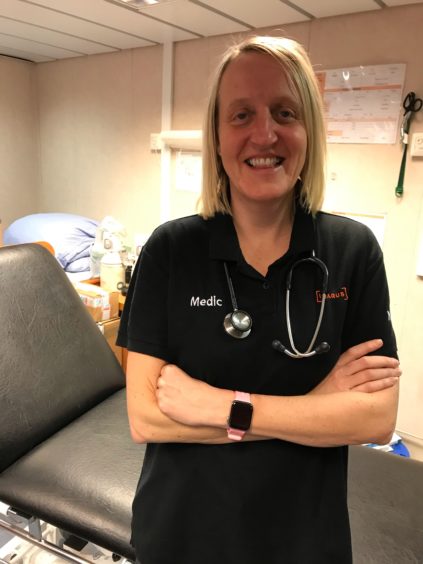 As her vessel comes to dock, she is relieved of her duty – which could see her save the life of a fellow crew mate.
Hilary has been an Iqarus offshore medic for two years, and is the only medic on board at any one time.
She looks after 12 patients, which may seem minor in comparison to the 25 years she spent working as a nurse.
Although there are common ailments such as toothache or flu, Hilary is working with an added complication – which wouldn't be a factor in A&E.
Her patients can normally be found on the seabed, doing maintenance or interventions to offshore structures and pipelines.
Hilary swapped the wards for Rever Topaz, which is a dive support vessel, after deciding a career change was in order.
Alongside the divers, she is also responsible for the physical and mental wellbeing of all on board, including the marine crew and project crew.
"Prior to Covid, I'd go to my hospital where I have an open door policy," said Hilary.
"But now I go down to the vessel and try to take everyone's temperature.
"We keep our distance as much as we can, but it is much smaller than what you have on a serious platform.
"I've got 12 divers to an area of saturation, so they are working on a seabed and need their temperatures checked twice a day."
Hilary is also responsible for running health campaigns, and she has made it her mission to make sure the crew stays fit.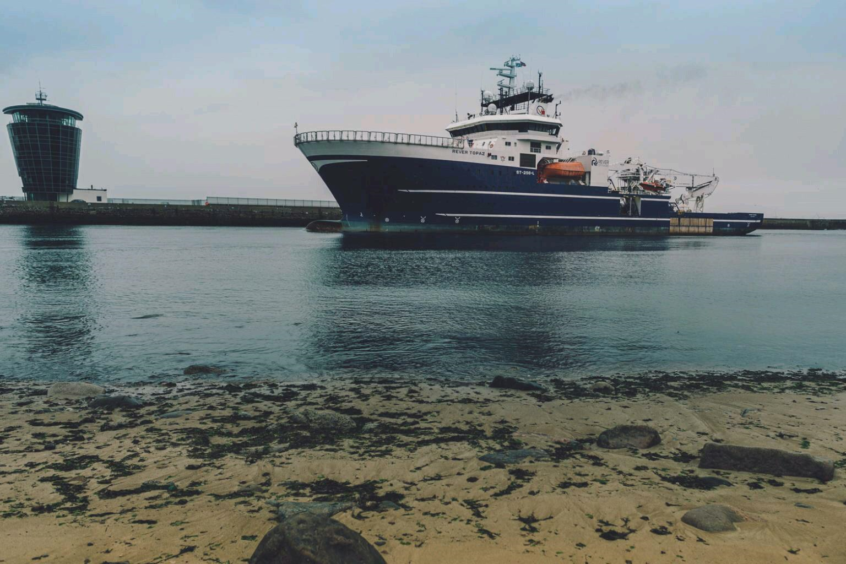 "My most successful campaign was Topaz Tummies, which is similar to Weight Watchers," she said.
"There's a weekly weigh-in, plus diet and exercise advice.
"The guys like it, as they are able to track their progress.
"The vessel is lovely, there's great food and great people to work with."
Hilary returned to Aberdeen in mid-April, having joined the Topaz crew in Norway at the start of March.
"It was eerie coming back to a very quiet Aberdeen," she said.
"I have been to Norway, Holland, Aberdeen and Sunderland with this vessel.
"Norway is beautiful, with its stunning fjords and crystal-clear waters.
"But nothing is better than coming into Aberdeen Harbour at Fittie, knowing that I'll be home soon."
It's not all plain sailing, however, and Hilary can be called upon to get seriously ill crew members off the vessel.
Both time, location and the added complication of divers falling ill on the seabed means she has to act quickly.
"People get unwell offshore, just as they do at home," said Hilary.
"There are lots of minor ailments to deal with such as coughs, colds, sore ears and toothache. I give out a lot of Lemsip.
"There are some people who develop very serious illnesses, though.
"A couple of patients have been very sick with sepsis, and they had to be medevaced off to hospital.
"Occasionally, divers get unwell. It's daunting because you cannot physically examine the person when they are at depth.
"The divers are directly looked after by the life-support team on board.
"We have specialised equipment that we can blow down to the diver, and his team-mates can attach the ill diver to the kit.
"From the surface, I can see what they see in the chamber, monitor his vital signs and monitor his heart.
"Depending on the depth that the divers are diving at, you can get someone back from space to Earth quicker than you can get a diver back to the surface.
"Decompression at depth takes a long time.
"This is remote medicine, there is no doctor next door to ask for help. You don't know what will turn up at the hospital door and you have to think on your feet very quickly."
Hilary also makes sure to bring plenty of supplies aboard, including her go-to condiment.
"For me, it's boxes of Shreddies and granola, a bottle or two of salad cream and some Haribos," she said.
"I don't suffer from seasickness, fortunately. "You really need to be a people person, as you live and work in close proximity to everyone, so we have to get on well and have lots of laughter.
"I feel really privileged to do this job, though – I love it."