Residents of an Aberdeenshire village were stunned after a "horrendous" fire ravaged a home and left at least one of its owners in hospital.
Emergency services were called to the incident, on Invergarry Park in St Cyrus, at 8.25pm on Saturday evening.
It took eight hours to quell the flames and a pall of smoke clung to the village throughout Sunday.
The fire had caused the roof of the house to cave in and there was damage to the neighbouring home too.
Firefighters urged local residents to keep their windows closed due to "heavy smoke" in the area.
One local, who did not wish to be named, said the "smoke was terrifying" and that many nearby residents had watched in shock from nearby streets as emergency service vehicles arrived.
The fire was brought under control by 4am. The house was left little more than a shell.
The home owners were last night named locally as Caroline and David Pirie, while neighbour Shona Dewars' home was also damaged.
Police confirmed one woman had been taken to Aberdeen Royal Infirmary with minor injuries.
On Facebook, the couple's daughter, Gemma Pirie, thanked "every single one of my mum and dad's neighbours in Invergarry Park for their help, support and kindness after their house fire".
She wrote: "You truly are amazing and we will be forever grateful for your kindness.
"I am also thankful everybody is safe."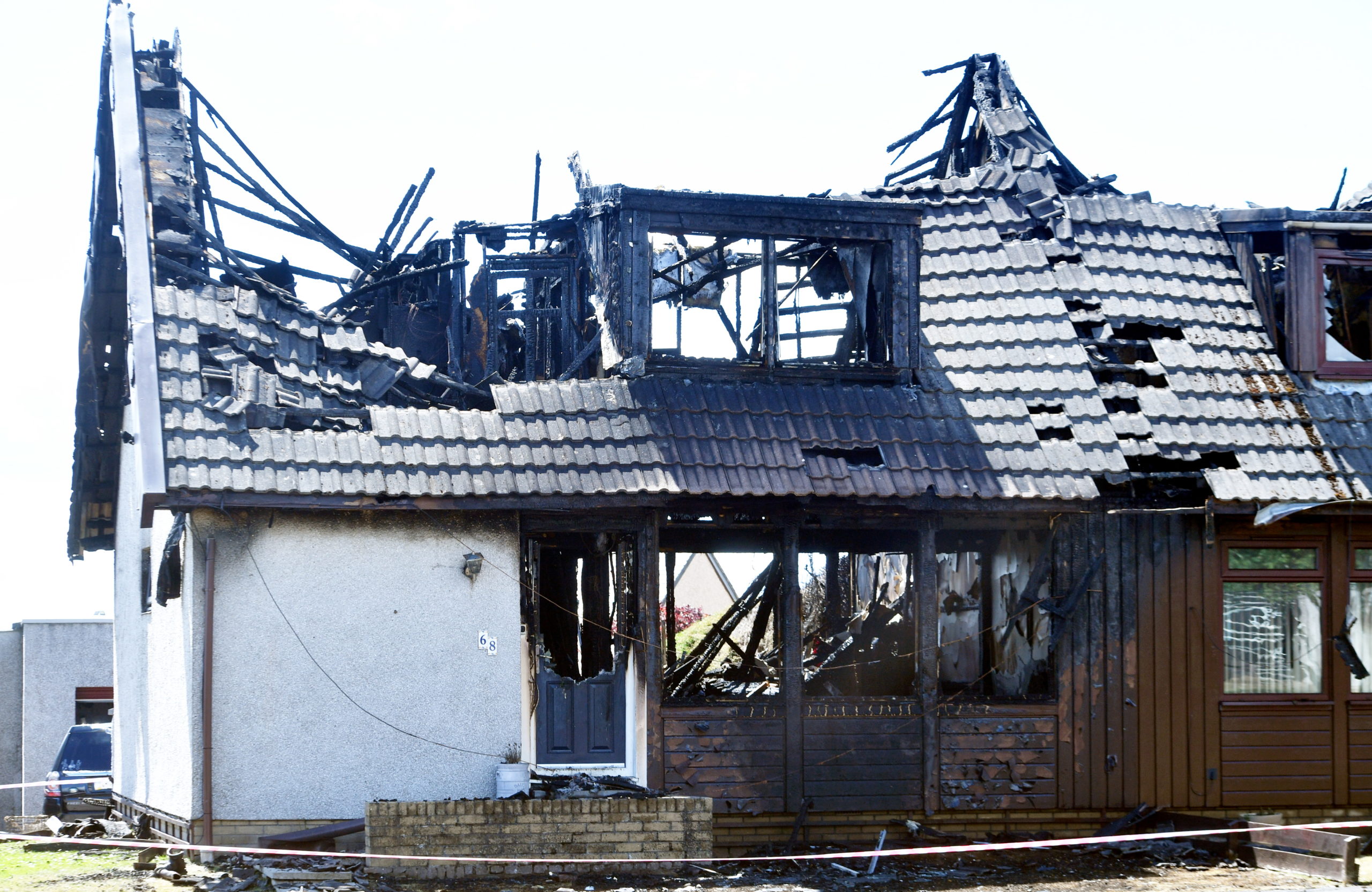 She also asked people to be on the lookout for a Jack Russel, named Billy, who is thought to have fled the house during the ordeal.
It was the second major fire on Invergarry Park this year, with another home damaged in a February blaze.
Yesterday, St Cyrus residents banded together to provide help and support to the family affected by the "devastating" fire.
There were offers of places to stay, advice on how best to remove the smell of smoke and even offers to wash clothes.
Yvonne Keith, at the St Cyrus Village Inn, was one of the many locals to offer support.
She said: "It's just so sad, and so strange as there was a fire on the same street not long ago.
"We've got a really good community in St Cyrus and everyone comes together to help each other in times like this."
Mearns councillor Leigh Wilson said: "With the accident coming at the same time as the coronavirus pandemic there seems to be no shortage of bad news, but the community spirit has certainly demonstrated there can always be light in the dark."
And Mearns councillor George Carr added his thanks to the emergency services.
He said: "To lose your home and your possessions is incredibly difficult. I am glad they got out safely.
"In area committee this week I made the case for the fire station in Bervie and this is a stellar example of that.
"We have crews there and in Laurencekirk ready to respond quickly, where increased centralisation would have caused real delays here."
A police spokeswoman said: "The fire is not thought to be suspicious and there was no further police involvement."