VIDEO: Customers cheer as north-east pubs turn the taps back on
By
Gregor Aiken
July 6, 2020, 9:15 pm
Updated: July 7, 2020, 4:45 pm
The drinks were flowing today as beer gardens across the north-east opened for the first time in nearly four months.
Queues formed outside popular drinking holes in Aberdeen as pub-goers enjoyed their first sociable drink since lockdown was imposed in March.
The weather did not disappoint either with people enjoying a freshly-poured pint in the sun.
Since the Scottish Government announced outdoor hospitality could resume, pubs and cafes have worked rigorously to create a safe space for customers – creating socially distant seating areas and introducing one-way systems, temperature checks and installing hand sanitisers.
Stuart McPhee, managing director at Siberia Bar and Hotel in Belmont Street, is hopeful the fun can continue despite the strict measures in place.
He said: "It is fantastic to be back and bring our staff into work, but it has been very stressful in making sure we have a safe environment for our customers.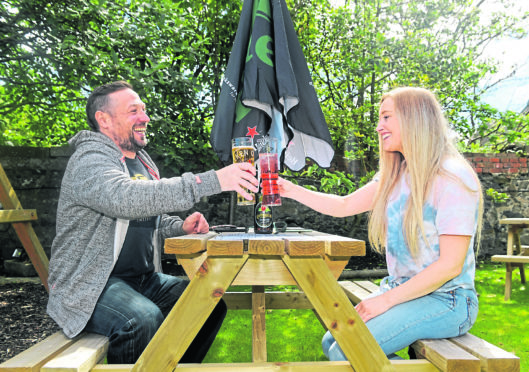 "For the first seven days we will be working to a booking schedule only and it has been quite successful so far.
"It gives us an indication to when customers are arriving, when they are leaving and prevents any hold ups at the front door especially since we are expecting around 230 people coming into the bar over the course of the day.
"We are trying to ensure the pub remains a fun place whilst working to social distancing measures.
"We want our customers to have a good time."
For Kirkgate Bar owner Colin Cameron, it was a delight to welcome some familiar faces back when the doors opened at 10am.
"We certainly won't make any profit for the next 10 days, but it is fine, it is more about getting the staff back and new beer in the kegs," he said.
"I have spotted many of our customers passing by since we have been closed, but it has been nice welcoming them back to the pub."
Fraserburgh comedian Wray Thomson, who is also the founder of Man Chat, was enjoying a drink with friends.
The 33-year-old said: "I queued at the front door of the bar for 15 minutes, I then waited for 15 minutes, but it was all worth it.
"Normally I've been sitting in my boxers on a Zoom call with my friends, so this has been real fun and chance of scenery.
"There is something sociable about a pint, it tastes amazing and I am delighted."
Nurse Jill Crossan is also glad the wait is finally over.
"It feels like Christmas morning, we have been eagerly waiting for this for weeks, it is great to be back," said the 43-year-old.
"I think the social distancing guidelines are good, it does not bother me, I'm just afraid others may not stick to them so well when they have had a few drinks."
At The Seafield Arms in Whitehills, the drinks began flowing early on – bringing the community together for the first time in months.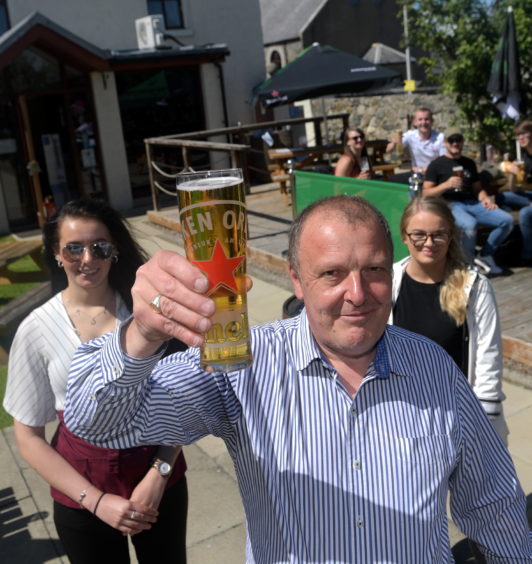 David Hayfield: "It was really busy from 12pm.  It's been amazing, it feels like the community finally has a chance come together.
"It of course has been very different, adapting to the new rules and way of doing things.
"The staff have gone above and beyond to do that. It was a great first day and people were all in good spirits and very well behaved."
Meanwhile, families were also spotted basking in the sun outside Books and Beans in Belmont Street, much to the delight of manager John Wigglesworth.
"The outdoor tables have been full since the moment we reopened," he said. "I think it is brilliant to serve the people of Aberdeen in this way.
"The most important aspect is that we are providing a safe and sanitised space for customers to enjoy some quality food, where previously they have had to sit on dirty park benches or steps."
At the daily Holyrood briefing yesterday, First Minister Nicola Sturgeon praised the hospitality and tourism industry for "working hard" to prepare for reopening safely.
She urged customers to be responsible and take heed of the new safety measures, such as providing contact information, and stressed they must behave responsibly.
"If you are not willing to do that you really shouldn't bother going at all," she said.
"If you see a crowd gathering particularity at a bottle neck point avoid it. These are really risky situations so don't take that risk.
"If you go to a bar or a restaurant outside right now, if it feels totally normal, exactly like it was before this pandemic, then something is wrong."
Ms Sturgeon also called on customers to be patient and respectful to staff getting up to speed with a new way of working.
She expressed some concerns at images of crowded streets in England after pubs opened on Saturday, urging people to avoid crowded areas.
But she added a "couple of images" doesn't mean that the "vast majority" of people are not obeying the rules.