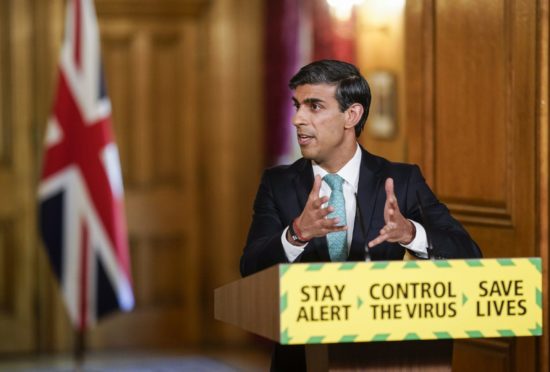 Scottish councils have piled pressure on the Chancellor to cut northern local authorities a break in paying back "eye-watering sums of money" in Treasury-issued loans.
Council leaders have voted to urged Rishi Sunak to consider a payment holiday for local authorities on their Public Works Loan Board (PWLB) borrowing – worth tens of millions of pounds.
The idea was first floated by Aberdeen South MP Stephen Flynn in May, who suggested a year-long break in "colossal" repayments to help councils through the pandemic.
PWLB borrowing has been used by councils up and down the country to fund construction of schools, roads, homes and public-owned facilities – with the north and north-east's bill thought to come to more than £800million.
Now, Cosla's resources spokeswoman Gail Macgregor has penned a letter to the Chancellor, echoing the calls of the SNP's Mr Flynn.
News of the councils' collective move to call for a break in repayments, as they face bills totalling hundreds of millions of pounds because of coronavirus, emerged in a document seen by The P&J.
It reads: "A letter has been sent from Councillor Gail Macgregor to the UK Chancellor requesting a year-long break for local authority Public Works Loan Board (PWLB) repayments and temporary flexibility on borrowing for revenue and transfer of capital to revenue."
A spokesman for the umbrella body for Scottish councils would not comment on the letter, only adding that no response had yet been received.
Mr Sunak will unveil a mini-Budget today to support the country's recovery from the pandemic.
Last night Aberdeen South MP Stephen Flynn said: ""I'm glad Cosla has backed my common sense proposal to provide much needed support to local authorities – it's clear there is cross-party support to see this plan taken forward and I hope the Chancellor will step up to the plate.
"Eye-watering sums of money have been spent putting in place measures to keep the public safe and protect the most vulnerable throughout this crisis, yet the UK Government still expects colossal debt repayments to be made to the Treasury – this cannot continue."
The idea previously had attracted significant praise from the leader of Highland Council Margaret Davidson, who said "all her Christmases for the next 10 years would have come at once" if it could be delivered.
Her local authority's loan alone amount to nearly £800m.
Moray Council leader Graham Leadbitter was also supportive of the proposal, but Aberdeen and Aberdeenshire's Conservative leaders both erred with caution – despite combined debt payments of nearly £77m expected this financial year alone.
That sum includes repaying other lenders too but a pause in the PWLB scheme would still be worth tens of millions to the two north-east authorities.
In total, the Treasury-run body is owed more than £9billion by councils across the UK, which make payments against the debt and interest to pay it off long-term.
The Treasury was approached to comment.