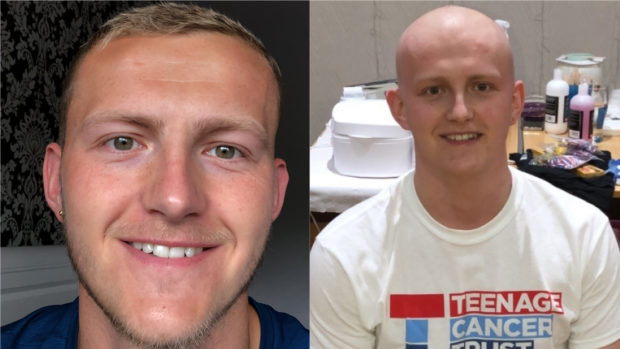 A Banff man who raised more than £20,000 while battling cancer has been recognised for his efforts.
Alex Charlton was diagnosed with Hodgkin Lymphoma last October and finished his treatment the week before lockdown.
During his treatment, the 24-year-old organised a Brave the Shave event – persuading 40 workmates, friends and family to shave their heads alongside him – and raised more than £20,000 for Teenage Cancer Trust and Cancer Research UK.
Now he has been received an award from the Teenage Cancer Trust at a virtual ceremony hosted by honorary patrons, Princesses Beatrice and Eugenie.
Mr Charlton, who was given the all-clear in April, said winning was an "absolute honour".
He added: "Amanda, my Teenage Cancer Trust nurse, was somebody who really helped me during my treatment, and the fundraising was my way of giving back to the charity. It's about making the most of a bad situation."
During his treatment, he had been looking forward to making trips across Scotland – which have been put on hold as he has been shielding.
He said: "Shielding is very frustrating obviously because you can't exactly go out and enjoy yourself, like I'd planned to do after getting the all-clear.
"I had planned to go and see a bit of Scotland and do the North Coast 500, but you just can't do it, it's not possible, we just all need to look after ourselves."
Princess Beatrice thanked Mr Charlton for supporting the charity, and said she admired him greatly for now wanting to run a marathon.