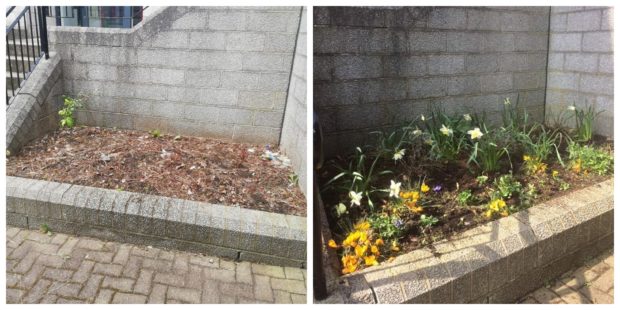 A community group has blamed blundering council workers for spraying weedkiller over a community garden and destroying several plants.
The Reiki in the Community group maintains a picturesque patch of flowers at Fountain Grange in the Woodside area of Aberdeen.
Secretary, Lynne Digby, was visiting a friend in the area and went to check on the garden but was shocked to find it in a state of upheaval after being sprayed and cut.
She said: "We were given the permission to look after the garden as the council used to spray it.
"We kept it lovely with flowers, lavender, roses and we even got daffodils from the council.
"It was such a shock when I went round.
"I thought maybe the lavender would be overgrown and some weeds might be present but when I got there I thought 'oh my god, they've sprayed it'.
"I was led to believe they weren't even spraying weeds at the moment. They were certainly asked not to spray that area.
"There could have been a better way instead of chopping them down."
The group is now calling on the local authority to replace the plants that have been destroyed.
Charlene Kilpatrick is chairwoman of Woodside Community Council and the Reiki group.
The loss of the garden will be a huge cost to the community, she believes, as those in the area won't have any bright scenery to lift their spirits.
She said: "The council are always going on about the community taking over, and looked after spaces. Then when you do it, they destroy it, so what's the point?
"They didn't even contact us. If they had said the weeds were getting out of control, one of us would have went up and done it.
"I don't understand why they sprayed it when we have an agreement and there were flowers in there."
An Aberdeen City Council spokeswoman said: "The incident is being investigated and we will be in touch with the Fountain Grange group.
"If this has been sprayed by our staff, it would have been accidental and we would be happy to replace any lost plants."