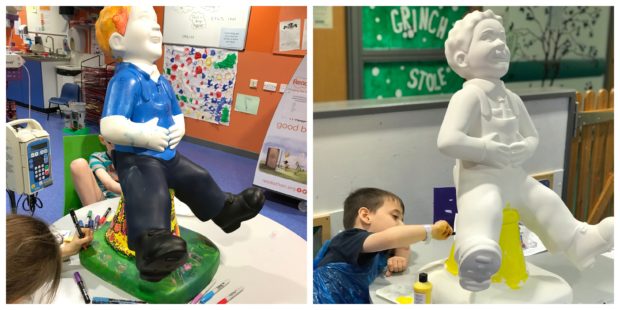 An Aberdeen charity is hoping to spread cheer and rekindle old summer memories with their new campaign.
The Archie Foundation is launching Archie's Garden Trail, which invites supporters to purchase, paint and place a miniature Oor Wullie sculpture to create a home grown garden trail.
As well as raising vital funds for the children's charity, organisers also hope it will help fill the void left by the cancellation of many cultural and artistic events.
David Wood, chief executive of The Archie Foundation, said: "Charities everywhere are under enormous pressure and the effects of the pandemic are putting additional strain on families who were already really struggling.
"The support and services offered by The Archie Foundation are vital and quite simply cannot be put at risk.
"Things like providing accommodation for parents when their children are in hospital or providing emergency funding to help families cope with the unforeseen costs that illness can bring are not 'nice-to-haves', they are fundamentals.
"It's all thanks to the generosity and kindness of our supporters we're able to continue to provide these vital services and we really hope the public will get behind this campaign."
The Archie Foundation's Oor Wullie's BIG Bucket Trial was running at this time last year, with people all over the country hunting down and posing for selfies with Scotland's much loved comical character.
As communities across the north-east have banded together during the pandemic, the team behind the trail is hoping to build on the community spirit witnessed and rekindle the fun of last summer's trail.
The charity is also encouraging people to "pay it forward" by purchasing a sculpture for a child in hospital to help alleviate anxiety and develop art skills.
Local artist, Fiona Chance, leads art sessions funded by the foundation.
She said: "Being in hospital can be a very scary and stressful experience for a child and their families. Providing creative activities has important wide ranging benefits.
"Art is not only a valuable distraction from pain but it is also a familiar, calming activity.
"It allows children to have some control over their situations letting them express themselves. Getting creative in hospital is therapeutic and can aid recovery."
Sculptures can be bought on the charity's website at www.archie.org.