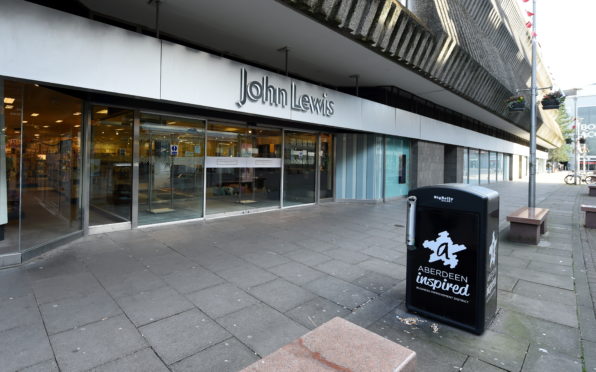 Retail giants announced thousands of job cuts across the UK yesterday – but north high streets appear to have escaped the turmoil for now.
John Lewis and Boots together announced a combined 5,300 potential job losses yesterday.
The department store chain announced it was consulting staff at eight English shops that would not reopen after lockdown.
Aberdeen's John Lewis, on George Street, will reopen on July 30.
The branch will be among 41 stores nationwide to welcome customers back by the end of the month, while Leicester's will do so once the local lockdown in the Midlands city has been eased.
But nationally, there are around 1,300 jobs are at risk due to the planned eight closures.
John Lewis said the restructure was needed to "secure the business's long-term future" and was in response to changing shopping habits – as there has been a 30% increase in online shopping by its customers during the Covid-19 outbreak.
Chairwoman of the John Lewis Partnership Sharon White said: "We believe closures are necessary to help us secure the sustainability of the partnership – and continue to meet the needs of our customers however and wherever they want to shop."
But, she added, there were "many reasons to be optimistic" about the firm's future.
There was a further boost for shoppers in the Granite City and in Inverness, as Debenhams too confirmed its stores were coming out of lockdown.
Its stores in the Trinity and Eastgate shopping centres are to open their doors on Monday.
News of these reopenings of major retailers came as First Minister Nicola Sturgeon cleared the way for shopping malls to reopen from Monday, if safety measures such as physical distancing were introduced.
A "delighted" Susan Reid, retail director at Debenhams, said: "We are able in our stores to accommodate two-metre social distancing comfortably, and we have equipped our colleagues with visors as well as screening off our tills.
"This underscores our commitment to the safety and wellbeing of our customers and colleagues whilst ensuring their comfort and convenience is maintained."
Meanwhile, Boots announced the pandemic was expected to cost more than 4,000 jobs.
The chemists chain said the "significant impact" of the outbreak could affect around 7% of its entire workforce.
A support office in Nottingham is expected to bear the brunt of the cuts but across its stores, some deputy and assistant manager, beauty adviser and customer adviser roles will be cut.
Additionally, bosses also plan to close 48 Boots Opticians, but would not confirm specific locations as yet.
The chain has more than 600 opticians branches across the UK, including in Aberdeen, Elgin and Inverness.
It comes after retail sales tumbled by 48% over the past three months in the face of the pandemic, despite Boots keeping swathes of its stores open to customers.
Its optician business suffered a 72% reduction in sales compared to the same quarter last year as people stayed at home.
Boots said that the cuts represent an "acceleration" of its transformation plans to improve profitably across the business.
Sebastian James, managing director of Boots UK, said: "The proposals announced are decisive actions to accelerate our transformation plan, allow Boots to continue its vital role as part of the UK health system, and ensure profitable long-term growth.
"I am so very grateful to all our colleagues for their dedication during the last few challenging months.
"They have stepped forward to support their communities, our customers and the NHS during this time, and I am extremely proud to be serving alongside them.
"In doing this, we are building a stronger and more modern Boots for our customers, patients and colleagues.
"We recognise that today's proposals will be very difficult for the remarkable people who make up the heart of our business, and we will do everything in our power to provide the fullest support during this time."