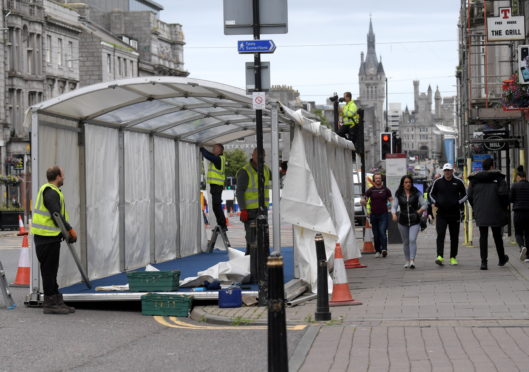 An Aberdeen hospitality firm has claimed raising a controversial marquee outside one its premises was the difference between reopening or staying shut.
The white tent outside The Grill in Union Street has prompted anger from some residents, as Aberdeen's main thoroughfare faces major upheaval.
A number of people have written to The P&J expressing disbelief at the tent's arrival, given the road changes put in place have been funded by the Scottish Government to aid physical distancing.
The Grill sits around 500 feet from the completely pedestrianised stretch of Union Street, between Market Street and Bridge Street.
A number of city centre routes have been altered as part of the £1.76 million scheme to make space for physical distancing and active travel.
It is understood Aberdeen licensing board turned down initial plans for the marquee last week due to police objections.
However, McGinty's Group – which owns the historic pub – revised proposals and plans were approved by officers using delegated powers as no further objection was made.
A spokeswoman for the group, which employs around 250 people at nine city venues, said the tent was the "difference between opening and not reopening" The Grill, given its small size.
Around 15 staff will be taken off furlough as a result.
"We must stress that this area will be an 'open air' environment and will adhere to all the appropriate guidelines to keep our staff and customers safe," the spokeswoman said.
"The hospitality trade has endured one of its biggest challenges and we are doing all that we can to protect jobs for our employees and also the local economy.
"This is going to be a testing time for the industry, with new ways of working and it is vital we all adapt in a positive manner in order to recover and revive our business."
Safety laws dictate the space can be used as an outdoor space if half the walls are open on the marquee, meaning the pub could use it to trade today.
Should they wish to keep the walls, the space can be used from Wednesday. when indoor hospitality trading is allowed again.
But Councillor Alex McLellan, a member of the licensing board, said: "I have real concerns around the bus lane being used to accommodate a beer garden given it has been closed to allow for physical distancing.
"The safety of the public is the most important factor in all of this. These measures were not put in place to assist businesses but to safeguard the public.
"I am sure many will be asking themselves, if the bus lanes are not needed for physical distancing, why are they not opened for public transport."