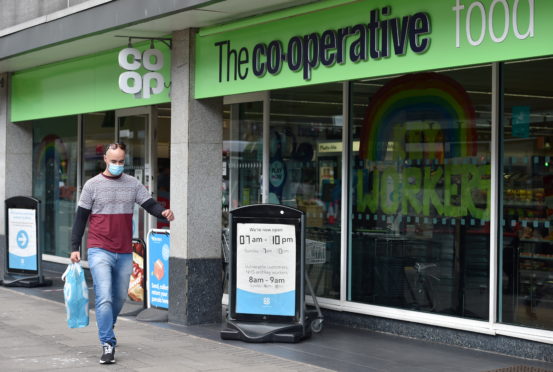 Shoppers across the north and north-east "did the right thing" as the vast majority heeded guidelines to put on a protective mask before entering stores.
Nicola Sturgeon told the nation that donning the coverings should become "as normal as putting on a seat belt" as they became mandatory for going to shops.
As queues formed outside local outlets in Buckie town centre,  all of the shoppers present appeared to have listened to the first minister's plea.
And at the Moray town's Tesco store, customers wore masks inside and outside the premises.
The mood surrounding the mandatory move was mainly positive with many happy to do what is needed to reduce the risks of infection.
However, some argued that it was difficult to breathe when wearing face coverings and others raised concerns that the measure should have been introduced earlier into Scotland's battle with the pandemic.
Smaller, independent shops across the country are hoping customers won't be deterred from visiting and making up for the trade they lost out on when forced to remain closed for three months.
Linda Sellar, partner of the Health Shop in Inverness city centre, said there had been "no problems" when it came to customers protecting themselves and others by putting on masks.
She said: "Everyone that has been coming into the shop, both young and old, has been wearing a face covering of some sort."
The owner of The Spotty Bag Shop in Banff, Des Cheyne, said customers had been doing what they can to remain safe despite the size and layout of the store presenting problems for social distancing.
Mr Cheyne said: "We've had a surge in face masks sales recently, which clearly demonstrates that people here are adhering to the guidelines.
"Our staff wear visors, and we're just trying to keep up with the guidelines as much as possible."
Owner of Unique, a women's clothes shop in Lossiemouth, Maureen Halkett, echoed the praise for shoppers – but explained that masks would be offered to customers who are not wearing one.
In Stonehaven, owner of the Fountainhall Wines, Steve McQueen, said the business was doing what it could to cater to those who don't want to visit in person.
He said: "We've been open for three weeks now so we don't have any worries with this new regulation.
"If it helps keep people safe, it's important. If people don't want to wear a mask in store, we still offer home deliveries."
The Scottish Retail Consortium advised people to get used to the new way of life, saying there would be "no return to normal shopping soon".
A spokesman said: "Retailers supported the government in encouraging customers to voluntarily wear face coverings, and we will play our part in informing customers of their new legal duty.
"However, it will be the responsibility of customers to wear a face covering in shops.
"The enforcement of face coverings in store will not fall on retail workers but is instead a matter for the appropriate authorities.
"These new rules will hopefully reaffirm it is safe to come back to the high street and support Scottish shops."
Assistant chief constable, Gary Ritchie, said police were prepared to help out but said enforcement action will only be taken "as a last resort", and "only where there is a clear breach of the legislation".
He said: "The chief constable has made it clear that we are asking people to take personal responsibility to do the right thing and remember the purpose of these measures is to aid the collective effort to stay safe, protect others and save lives by preventing the virus from spreading."
Nicola Sturgeon said she is hopeful people will comply with the new rules, which add a "layer of protection".
The First Minister also said the move to phase three of easing lockdown gives people many more freedoms – so it is therefore "a moment of maximum danger".
The two-metre physical distancing rule can now be relaxed in shops and on public transport, if further mitigation measures are in place, while groups of up to 15 people from a maximum of five households are allowed to meet up outside and up to eight people from three different households can gather together indoors.
In an interview on BBC Breakfast, Ms Sturgeon said it is down to the police to enforce the wearing of face coverings – although her deputy John Swinney suggested officers should not be patrolling the aisles of shops to catch people breaking the rules.
Asked why face coverings have become mandatory in shops more than four months after the start of the coronavirus outbreak in Scotland, Ms Sturgeon said: "It's an enclosed space, it can be somewhere that it is difficult to keep a safe physical distance, and so – similar to public transport, which has been mandatory now for some time – our judgment is that it should be the law that people wear face coverings.
"We know that there is increasing evidence that wearing a face covering can play a part in stopping the transmission of the virus.
"I think it's important to say it's not something that gives you your immunity from the virus. It's not a substitute for all the other measures like washing your hands properly and safe physical distancing, but it can add a layer of protection.
"As we start interacting with each other much more now, it's important that we do all of the things that just reduce the ability of this highly infectious virus to spread."