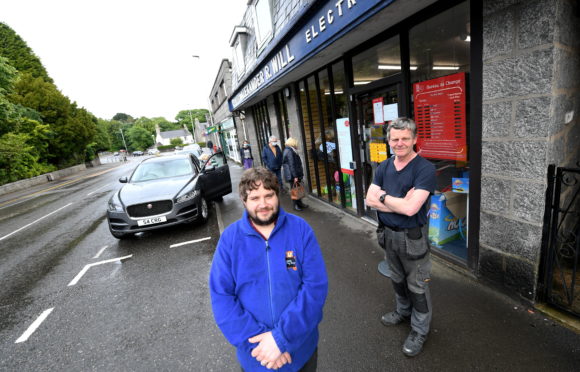 Hundreds of Cults residents have signed a petition against physical distancing measures– before council staff have even finished their first draft of plans.
The pavements at the shops on North Deeside Road are earmarked for change, as the local authority looks to make it safe for pedestrians to pass those queuing for entry to business premises.
The council plans include removing a number of spaces between Millden Road and School Road to allow pavements to be widened.
The petition has gathered more than 600 signatures.
It was started by Brendan Will, one of the owners of Alexander R Will and Wills Toyshop, in North Deeside Road, which also houses a post office.
Mr Will said: "We have managed so far with common sense and now everyone is wearing face coverings.
"People have been sensible in keeping out of each other's way, maybe as an alternative the council could look at one-way pavements.
"This is meant to be a measure to make it safe as more people return to businesses but I can't see there being a heavier footfall if people can't come."
He claims there is a lack of off-street parking, as the nearby Courtyard car park is already usually full.
The area was one of six initially highlighted for roadworks as part of the Spaces For People project.
Council transport spokeswoman Sandra Macdonald said: "We are at the initial stage of planning works for Cults to allow for physical distancing and are discussing with the local community council and businesses for their input.
"The initial plan includes blue badge parking along North Deeside Road in front of the shops so the most vulnerable people can easily access them.
"Normal parking can be accessed at the rear of the shops which would involve a short walk for able-bodied people.
"We are looking to balance the needs of all whilst allowing opportunities for physical distancing at the busiest parts of our retail centres."