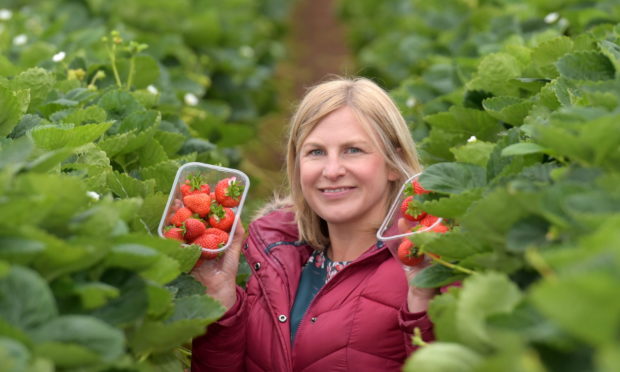 There is something wonderfully traditional about strawberries.
Whether you serve them with cream or make them even sweeter on a tart, strawberries signify the start of summer.
But for every punnet picked up at the supermarket, do we really think about where our berries come from?
Picking berries on a sunny afternoon might sound lovely, but the reality involves long hours and hard physical labour.
There is no machinery to pluck the berries, although there is talk of robots for the future.
That means that an army of people is responsible for making sure berries arrive on your plate, perfectly ripe and ready to enjoy.
Covid-19 has wreaked havoc on the commercial fruit industry, with workers normally recruited from eastern Europe.
As lockdown commenced, fruit farmers in Angus, Fife and Perthshire appealed for more than 3,000 people to pick berries.
Closer to home, Castleton Fruit Farm also had to adapt.
The popular site can be found at Fordoun, near Laurencekirk, and offers a farm shop and cafe with local produce.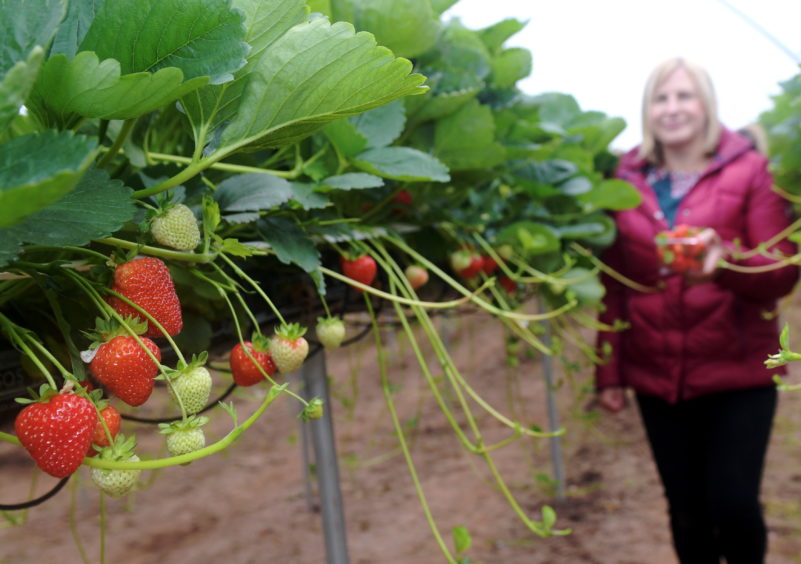 Strawberries are a firm favourite on the menu, and don't have far to go before they are rung through the till.
For Castleton is also home to 120 acres of strawberries, 30 acres of raspberries, 80 acres of blueberries and 20 acres of cherries.
The site is one of the most northerly soft-fruit growers in Scotland, and around 900 workers come and go each year.
With staff normally staying on-site in caravans and chalets, Castleton has since recruited locals in a bid to make sure their produce still makes it to the supermarket shelves.
Anna Mitchell helps run the 710-acre farm with husband Ross and his parents, who brought Castleton in 1992.
She is passionate about producing high-quality fruit, and believes Castleton has adapted to major changes caused by the pandemic.
"Ross's parents inherited a small crop of strawberries, so it was pick-your-own originally," said Anna.
"They milked cows before deciding to concentrate on the fruit side commercially.
"In 2000, they put up the first polytunnel. It revolutionised fruit growing, because the weather was a major factor.
"Polytunnels eliminated a lot of problems – now if you put the tunnels in a line, you could walk from here to Glasgow."
Strawberry picking starts in March and finishes in December, with 450 workers at peak season – which lasts from June through to August.
"I think fruit growing is very satisfactory, because you are part of the whole process," said Anna.
"You see the pollination, and if you look after the bees, you'll see the fruit come on.
"You are in full control from start to finish. With dairy and meat, there is another process before it reaches the supermarket.
"You get some lovely feedback from people – they'll have picked up a punnet of strawberries at a supermarket somewhere in the country and loved them.
"We've always had very high standards and requirements for food safety, Covid has added to that.
"There's social distancing to consider, and most of our labour comes from eastern Europe.
"Now there are a lot of local people working on the farm, it's just a different way of doing things."
In days gone by, mothers and children would normally stay at Castleton for a few weeks, to earn money and enjoy a holiday.
Although they won't be seeing workers from abroad this year, Anna and Ross have still kept in touch.
"Some people have been coming to Castleton for years," said Anna.
"Then they've decided to live here and made Scotland their home.
"Other people have got married and started a family, meaning they won't be coming back. But they'll tell their neighbour or their wee cousin, it was word of mouth.
"We had a great response to vacancies though, there were so many people emailing because they were looking for work.
"We had hundreds of applicants, which is amazing, but this job doesn't suit everybody. It is early starts and long days, it's back-breaking work.
"When there's hot weather, we'll start for the day at 6am to try to avoid the heat.
"It's also a very skilled job."
It would seem that not all strawberries grow equal, and there is a strict grading system in place.
Castleton supplies most major supermarkets, including Tesco and M&S.
"You should be able to look at a strawberry and know that it is an M&S berry," said Anna.
"We grade the fruit, it has to look perfect.
"If it is under ripe or has a bit soft, that wouldn't go in the M&S punnet, for example.
"This isn't a seasonal job, we pick for nine months of the year."
Hard work aside, tasting your produce must surely be the greatest reward?
"I don't actually eat strawberries very often, maybe because I am surrounded by them," said Anna.
"But when I do, it goes without saying, they're delicious."