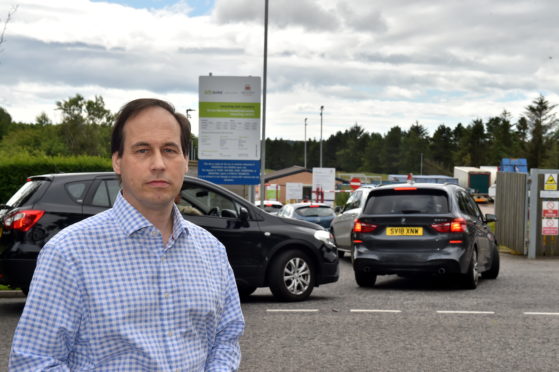 Rogue drivers have been accused of causing "chaos" near an Aberdeen tip after the road leading to it was opened to two-way traffic again.
Hazlehead recycling centre reopened last month in a limited capacity after lockdown, with the council reducing the number of vehicles that could be on site at any one time.
A one-way system was put in place to manage traffic waiting to enter the facility in leafy Hazlehead Avenue, which is also a main route into Hazlehead Park.
As it has been relaxed, residents have complained of hazards on the road, as drivers attempt overtakes of multiple vehicles and other dangerous manoeuvres in the face of oncoming traffic.
Aberdeen City Council has been forced to ban right turns out of the tip to put a stop to it.
Hazlehead councillor Martin Greig said: "Chaotic scenes have been described to me by constituents, due to the dangerous queuing system.
"As with so many of these kinds of steps, they have to be experienced to gauge their effectiveness.
"There are a lot of people also visiting the park, so there is already need to manage traffic.
"The prohibition of right turns out of the recycling centre will help, but the problem of queues remains.
"Constituents have called for the one-way system to be reintroduced."
A spokesman for the council said: "Our officers witnessed some instances of indiscriminate driving behaviour and as a result a 'no right turn' policy for those coming out of the recycling centre was introduced.
"Officers will continue to monitor the situation."