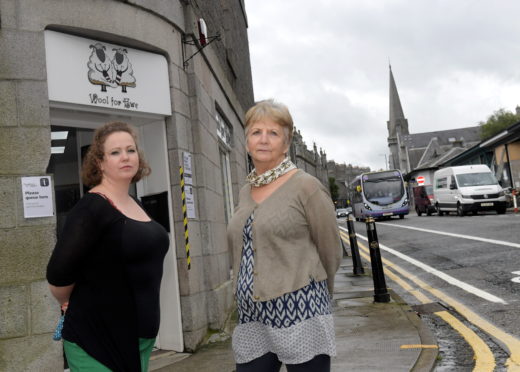 Council roads planners have been warned controversial changes to the road layout in a bustling area of Aberdeen could put children's safety at risk.
Tearful business bosses put their concerns about physical distancing measures in Rosemount to officials at a meeting on Tuesday night.
Retailers reported Rosemount Place could be likened to a "race track" since the one-way system, from Argyll Place to Mount Street, was put in place.
Planners had wanted a 20mph limit in the area – although its introduction seemed to have fallen off the agenda when measures were introduced a fortnight ago.
While many at the meeting were concerned about how the temporary Spaces For People work would affect their trade, the overwhelming worry was for the safety of pedestrians.
The overall £1.76 million city project is aimed at providing safe room for physical distancing and encouraging more to travel on foot or by bike.
But Renay Murray, from Abacus Nursery in View Terrace, warned the interventions were "a serious accident waiting to happen".
She said: "We are extremely concerned about traffic, we have children crossing the road with their parents and it simply is not safe for them to do so any more."
Her concerns were shared by other businesses on the popular shopping street, who reported "very disturbing" and "utterly crazy" driving which "terrified" pedestrians getting used to what they said was a "chaotic" one-way system.
Motorists travelling up Rosemount Place are being diverted down Mount Street, which community leaders have warned is creating rat runs in Whitehall Place and Belgrave Terrace when they discover the next part of the council intervention – a bus gate at the top of Esslemont Avenue.
There is a bike lane between Mount Street and the bus gate, which then becomes a shared bus and cycle space for the remainder of the road, up to Argyll Place.
Planners said a pinch point in the pavement outside Sainsbury's supermarket near Eden Place made the partial closure of the road necessary.
Retailers involved in traders' association Rosemount Rocks are, however, demanding two-way traffic be reinstated, fearing they will otherwise go to the wall.
"We are at the point where we will be closed by Christmas unless something changes," warned Faye Howard from Wool For Ewe.
"Usual weekly visitors have told me they won't come any more.
"This will shut down a lot of the businesses and destroy the community – and I'm yet to find anyone who thinks the one-way system is going the right direction.
"This is not just a business thing. All the traffic is going past Skene Square School, so is it going to take a child to be killed while being dropped-off at school for our concerns to be heard?
"Traffic going the other way would ease congestion and mean traffic could get here from town"
The council will review the effectiveness of its work in the area in a fortnight, by which time it will have been in place for a month.
Council co-leader Jenny Laing, a Rosemount councillor, and roads officer Vycki Ritson have committed to walking the area with residents and business owners to hear and see concerns first-hand.
Mrs Laing has also asked planners to consider changing the direction of the one-way system, having listened to those who spoke at the meeting.