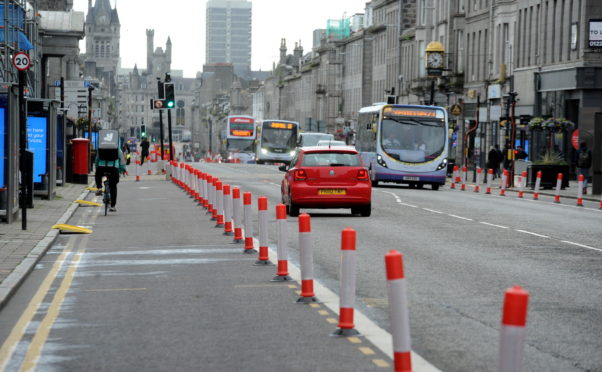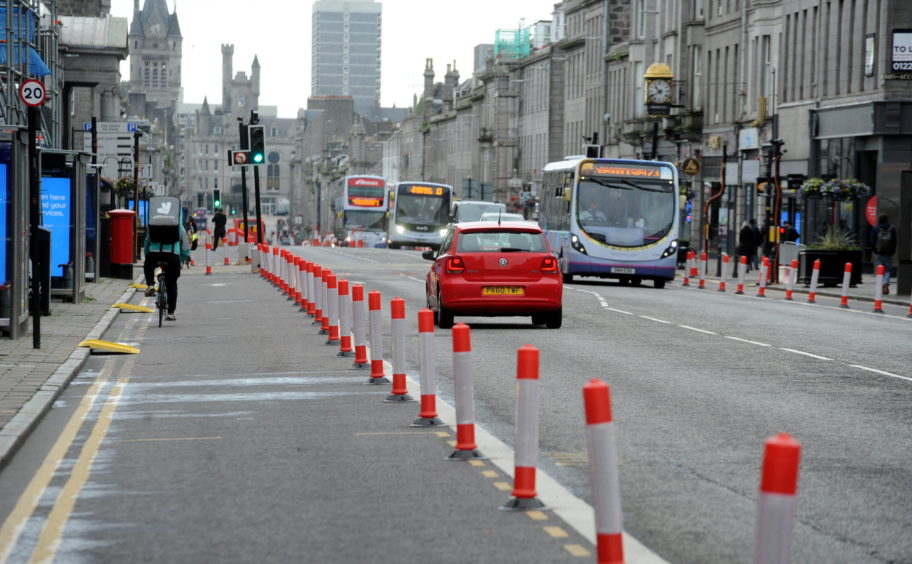 Concerns about plans to spend as much as £100,000 on artwork – instead of physical distancing – in Aberdeen have been taken to the Transport Secretary.
The council is on the hunt for artists to create installations to go alongside its Spaces For People measures, aimed at creating safe room for distancing as shops, businesses and workplaces gradually reopen through lockdown.
Three commissions are on offer in the partly-pedestrianised Union Street, the Schoolhill and Upperkirkgate area and in the West End.
Writing to Transport Secretary Michael Matheson, Aberdeen South MP Stephen Flynn revealed "profound concerns", saying he is "astounded street art could even be considered as an appropriate use of £100,000 of public funds provided to enhance physical distancing".
The SNP politician later told The P&J: "I was extremely hopeful that the money the council was provided by the Scottish Government would be put to good use and it is clear for all to see that works to date have divided opinion – not least for those residents and traders in the likes of Cults, Rosemount and Chapel Street.
'Is it going to take a child to be killed being dropped off at school for our concerns to be heard?' ask tearful Rosemount traders
"But I simply cannot fathom how we can be in a position where £100,000 of public money is potentially being used to create murals when it is clearly intended to enhance physical distancing.
"Like many others I've been on Union Street and there has been little, if any, improvements for cyclists whilst a marquee is literally blocking off an area that was created solely to widen the pavement for pedestrians.
"The council administration have a woeful record at throwing good money after bad but, as much as I love the likes of Nuart, nobody can reasonably argue that a mural will enhance physical distancing."
A council brief for applicants for the work invites them to "transform road surfaces into inviting pedestrianised areas", with designs expected to serve as a practical tool to mark out walkways, cycle lanes and crossings within the affected roads.
It also suggests artwork could also encourage safe behaviour – for example with sculptures guiding pedestrians through the reclaimed space, paint or decals on the road to encourage safe distancing or markers to indicate entrances and exits.
Originally sceptical of the relevance of the artwork, transport charity Sustrans – which is overseeing the Scottish Government funded project – has now demanded a place on the council's assessment panel to ensure proposals are within its guidelines.
The city's £1.76million Spaces For People work has been deemed essential by the public health bosses within NHS Grampian, who advise the north-east could be at risk of a devastating local lockdown if nothing is done.
But the pace of the roll-out of the pavement widening, pedestrianisation and installation of bike lanes has proven controversial, with little time for consultation before roads are altered.
Transport Scotland would not comment on the issues raised by Mr Flynn, highlighting Sustrans' leading role in deciding on funding for councils under the scheme.
The charity last week said it "welcomed" the local authority's desire to "create public spaces which not only support the safe movement of people by foot and bike during coronavirus, but are visually attractive and welcoming to visitors to the city centre."
Conservative Councillor John Wheeler, the council's operational delivery convener ,said: "The allocation of funding for the Spaces For People measures is decided by the Spaces For People board and Sustrans to implement and manage the temporary measures to create appropriate physical distancing environments around the city.
"If Stephen Flynn is concerned about the proper use of the funding he should speak with Sustrans."