The water supply to hundreds of north-east homes was declared unsafe over the weekend after traces of E.coli were found.
A routine test flagged the presence of the bacteria at Gourdon Service Reservoir on Friday afternoon.
The following day, around three-quarters of homes in village were issued alerts ordering them to boil their tap water before consumption.
This included for brushing their teeth, preparing babies' feeds and disinfecting feeding equipment, preparing food, washing open wounds and giving to their pets.
For the duration of the "boil notice", residents were able to claim bottles of drinking water from Scottish Water staff at the Gourdon War Memorial.
The village's supply was switched to a different reservoir last night, meaning villagers were able to use their tap water normally once more.
Further tests are being conducted to determine the source of the E.coli, with Scottish Water saying the situation was "very unusual".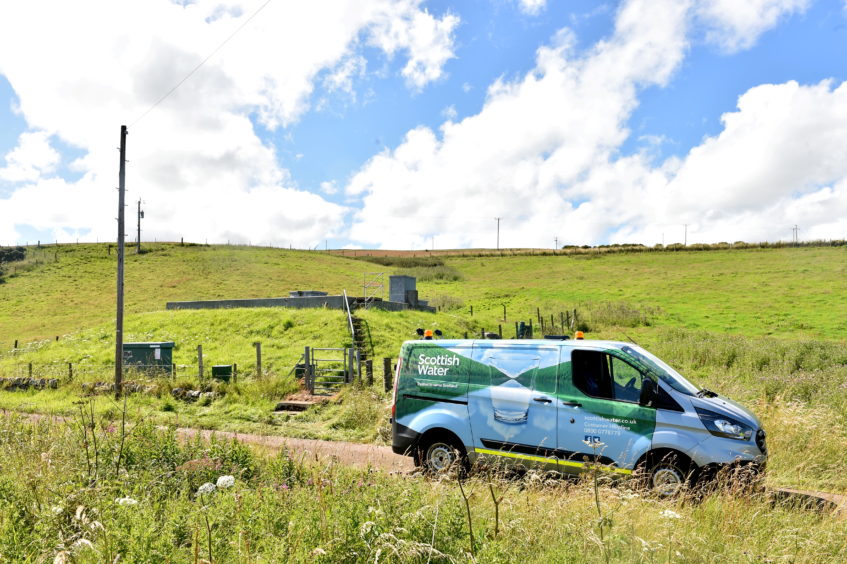 The Scottish Water site on the A92 near Gourdon
Yesterday, a steady stream of locals helped themselves to packs of the water throughout the day.
One woman from the village, Hazel Hamilton-Hall, said she took it upon herself to collect and then hand out bottles of water to pensioners or other people in the community who don't have access to cars or have mobility issues.
She said: "I delivered to my street to make sure everyone had drinking water.
"And there's quite a few people that are elderly in the community, so I wanted to make sure that they had both the boil notice letters, and had some form of water.
"There's a lot of elderly people that don't drive, and it's not fine, especially if you've not got anyone else around, so I delivered a few bottles and left my number.
"We're such a close-knit community that we always muck in together and get the job done."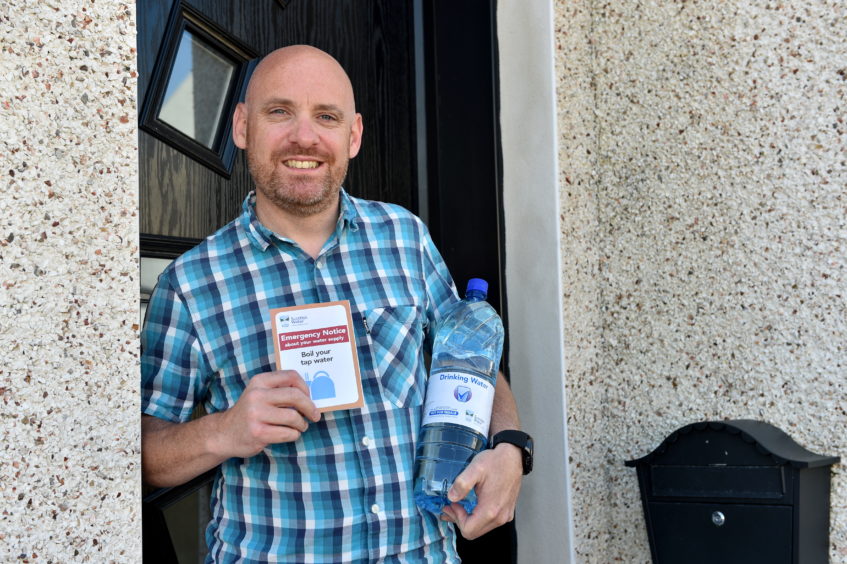 Her husband Corey Hall, 45, said: "We first heard about it on Saturday morning with a notification on Facebook, and we knew straight away not to drink the water.
"It must be pretty serious before they recommend you don't even use it to clean your teeth."
And 80-year-old Ella Rutherford, who lives close to the war memorial where drinking water was distributed, said: "We had the little card through and knew we had to be careful.
"My son has gone up to get us water. Everything has been fine, as long as we get plenty of water."
A Scottish Water spokeswoman said: "A sample from Gourdon Service Reservoir on Friday showed the water was not meeting the usual microbiological standard and  E.coli had been detected.
"This can happen for a number of reasons, it can be in the supply or may be the result of the treatment process or the sampling process itself.
"This type of failure is very unusual – this has not happened in the 10 years we have records for this site.
"As such we believe the water sample tested may have been contaminated during the sample process."
She added: "Customers are now being notified that it is safe for them to drink and use their water as normal.
"We apologise to customers for the inconvenience while this notice was in place and thank them for their understanding."