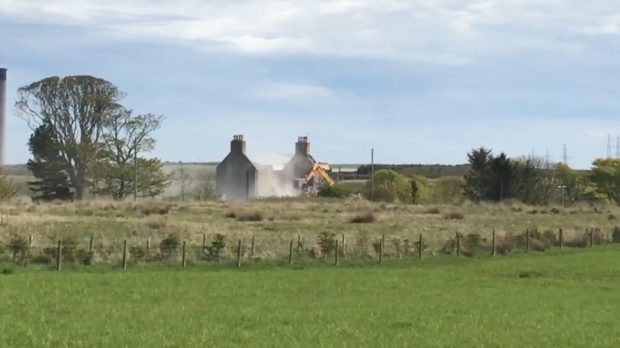 A Peterhead engineering firm has revealed it is a step closer to demolishing a fire-hit house at the centre of a planning row.
Score Group brought in diggers and began tearing down a B-listed farm house in Wellington Place, Peterhead, in May.
But planning officials ordered the work to stop as the project did not have the proper consent.
In June, Score submitted a retrospective application for the work, with hopes of tearing down the rest of the farmhouse which they say is beyond repair and too expensive to bring back to life as a residential property.
But objections were lodged, with Historic Environment Scotland and Aberdeenshire Council's environmental health team said they felt not enough effort had been made to justify the proposed demolition.
Now Score Group has revealed its won its battle with Historic Environment Scotland to have the listed status of the cottage removed – potentially making it easier for it to be knocked down.
The firm, which insists the initial work was carried out to make the building safe after it was repeatedly targeted by fireraisers and vandals in 2019, now plans to resubmit its application to make clear the building is now longer listed.
Gordon Ronaldson, from Score Group, said: "We thank Aberdeenshire Council for promptly reacting to our request to withdraw our planning application.  We will continue to work with the council and other relevant stakeholders on any property applications we may make in the future.
"Score Group is proud to be headquartered in Peterhead and we will continue to invest and deliver for the good of the north-east community".
The farmhouse sits in a patch of land which has been approved for commercial development area.
Score previously tried to get the property knocked down in 2017, and said then that it would cost up to £780,000 to bring the building back up to listed standard.