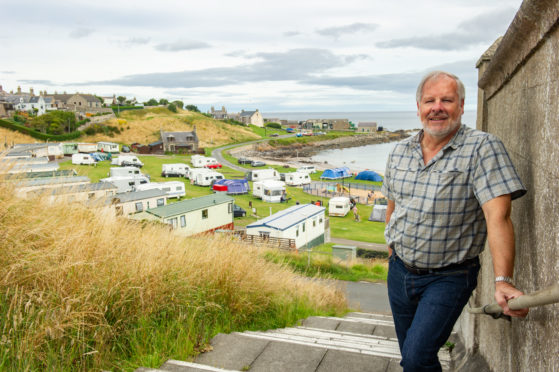 Landowners have been asked to let tourists park on their property to help free up much-needed space in the centre of north-east villages.
Residents in popular seaside spots like Portsoy and Sandend have complained about a rise in visitors in recent weeks.
They say the sudden surge has led to traffic chaos and overcrowding as sun-worshippers flock to the coast on sunny days.
One Portsoy resident contacted the Press and Journal claiming the village had been "inundated with tourists, caravan and campers" and that increase of footfall means "no social distancing is possible".
However, Banff councillor John Cox says the increase in footfall is, ultimately, a welcome one, and that efforts should be made to reap the benefits.
He said: "Due to Covid some of our visitor attractions have been closed, and consequently people have been concentrating on areas that are open and accessible and that includes town centres, ice cream shops and beaches.
"Small villages along the coast don't have the facilities to cope with a 200 to 300% increase in visitors to their area.
"So we've got to have a balance and ask visitors to park their cars safely to allow access to vehicles for visitors and locals."
He added: "It's about getting the balance right. We have been working to attract more tourists for years and what we are now seeing is a huge increase in UK visitors coming to the north-east.
"We are going to see a negative impact as the outcome of Covid with hundreds of jobs lost. We have to grow the tourism area as it's the only thing we can do.
"But I would put a plea out to some land owners in the locality of some of these places that are attracting hundreds of visitors to see if there's any short-term solutions we can put in place to allow visitors to park on their ground.
"Obviously this comes at a risk and I respect land owners' worries such temporary car parks could be used for all the wrong reasons, but maybe it's an option.
"We want to be supportive and encouraging of visitors. Portsoy is a narrow village but with a fantastic beach. We've also got the best ice cream on the coast, in my opinion, and we need everybody to play a part and stay welcoming and respectful to one and all."