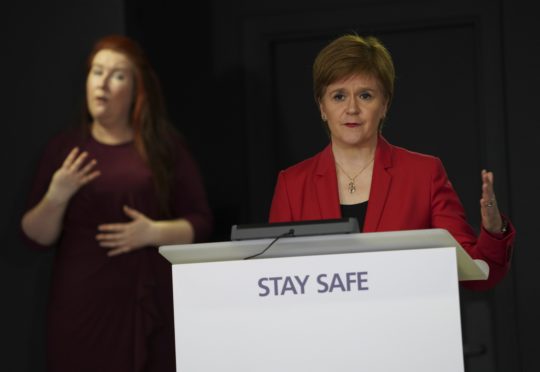 Lockdown measures being reintroduced in Aberdeen should be "the biggest, loudest warning yet" that the coronavirus crisis is not yet over, the first minister has said.
Nicola Sturgeon yesterday imposed stricter measures in the city – to be reviewed after a week – after a spike in the number of cases.
And she confirmed restrictions could yet be rolled out in neighbouring Aberdeenshire.
The outbreak, linked to more than 20 north-east bars, led to Ms Sturgeon's "fears being realised" as she reimposed lockdown measures on Aberdonians.
All city bars, cafes and restaurants – indoor and outdoor – were told to close by 5pm, although takeaways and hotel restaurants providing residents with meals are allowed to continue.
Restrictions were brought in on travel to and from Aberdeen with a five-mile limit placed on journeys for leisure and recreation.
Those looking to visit the city have also been advised not to.
Exceptions have been made for those travelling for work or their education – as the measures were brought in to protect hopes of city schools reopening next week.
"If it is a choice between choosing hospitality or choosing schools, we're choosing schools right now and that is because we know it's in the interests and well-being of children to get them back into education," the first minister said.
Visiting other households indoors has also been ruled out, except for those in an extended household group.
Ongoing contact tracing work will determine if restrictions are to be rolled out in Aberdeenshire too – with a decision yet to made, the first minister said.
At her briefing, Ms Sturgeon said: "Where we have reached today in Aberdeen should be the biggest wakeup call in this pandemic since the early days of it.
"It hasn't gone away, I so wish it had.
"What I have been telling you about Melbourne, the north of England and parts of Spain, that's been real and worrying me for the last few weeks.
"But I guess it's far away and there's always a sense of 'ach well we're doing well and it won't happen here'.
"It can happen here and it is happening here in Aberdeen so please take this as the biggest, loudest warning yet that this virus is still out there.
"We have forced it into retreat in the last few weeks but the battle is not won against it, this is a battle for the foreseeable future that we have to fight and refight on a daily basis and all of us are the first line of defence against it."
The first minister had chaired a meeting of the Scottish Government's resilience committee yesterday morning, joined by police, NHS Grampian and the leaders of Aberdeen City Council.
The decision to reimpose the restrictions came as the number of cases linked to the outbreak at The Hawthorn Bar, Holburn Street, Aberdeen, reached 54.
It was first flagged at the weekend when four people tested positive.
Test and Protect teams have now traced 191 people who have been in close contact with those affected though the first minister warned "we expect that number to rise".
Figures show more than half of all today's new coronavirus positive patients were in Grampian, with 36 of 64 people in the north-east region.
However, Ms Sturgeon said it is not yet clear how many were connected to The Hawthorn Bar outbreak, which has since been traced through more than 20 city venues.
Having been part of the committee to agree on the stricter measures coming back into force, co-leader of the city administration Jenny Laing admitted it was "unfortunate" timing, "just as we were returning to a degree normality".
But she said safety had to be the priority.
Her coalition partner Douglas Lumsden added: "It will be challenging for many as we were beginning to enjoy the easing of the lockdown however public safety continues to be paramount.
"We appreciate the enormous efforts made by everyone to adhere to the lockdown measures previously in place and would remind them that together we can get through this."
Police committed to having more officers patrolling the city's streets to uphold the new regulations on business opening and the guidance on travel.
Deputy Chief Constable Will Kerr said north-east officers would call upon resources from across the country if "necessary to protect and support" people in Aberdeen.
Mr Kerr said officers would "engage, educate and encourage people" to comply with government guidance to stop the spread of the virus.