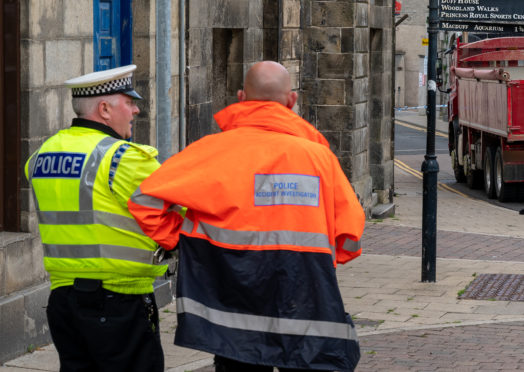 A cyclist suffered a serious head injury after being knocked from his bike in a collision with a lorry in a north-east town.
The emergency services were called to Low Street in Banff at about 2.20pm this afternoon.
It is understood that the cyclist was trapped underneath the lorry in the aftermath of the crash, and had to be freed.
The lorry, belonging to local building firm AJ Rennie, remained at the scene for several hours afterwards along with the man's black bicycle.
The incident took place outside the Wilson defence solicitors building and nearby traders last night described the scenes as the police, fire crews and an ambulance arrived in the area.
One businessman, who did not wish to be named, said: "I was really shocked to see police outside the shop.
"I never saw the incident as I was so busy working. I just saw the bike lying at the side of the road.
"Hopefully whoever was involved with the crash will recover from this."
Another added: "The crash looked terrible.
"My thoughts and prayers are with the cyclist's friends and family as it is a horrible thing to happen."
A heavy police presence remained on the road for several hours, and a stretch of the route was sealed off into the evening as investigations were carried out.
Banff and District councillor Glen Reynolds last night praised the residents who rushed to help those affected while waiting for the emergency services.
Mr Reynolds said: "First and foremost my thoughts are with the injured cyclist and their friends and family.
"I hope they make a speedy recovery and that the circumstances of this accident can be attained as soon as possible.
"During the course of the afternoon, there was a volume of siren activity and I was told about the incident on Low Street.
"I'd like to praise the emergency services as well as the members of the public who were first on the scene and did what they could to help, they're due worthy praise.
"My thoughts are also with the driver of the vehicle who clearly would have been in severe shock."
A police spokesman said: "Around 2.20pm, police received a report of a road crash involving a lorry and a cyclist on Low Street, Banff.
"The cyclist was taken by ambulance to Aberdeen Royal Infirmary where he is currently being treated for a serious head injury. Inquiries continue."